ICC involves Massachusetts institute to achieve uniform DRS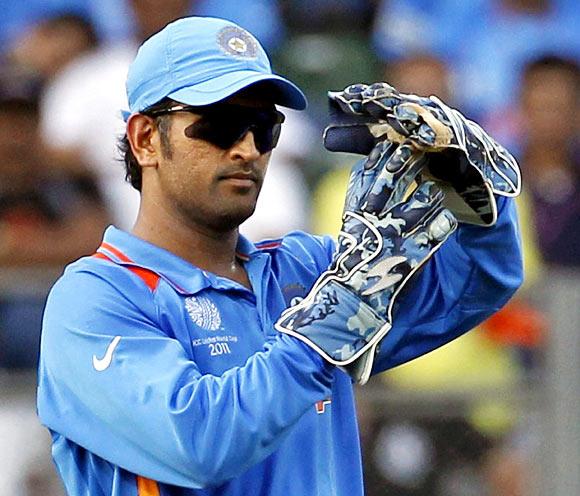 IMAGE: India's Mahendra Singh Dhoni gestures for a review. Photograph: Reuters
In an effort to bring all Test nations on board, the International Cricket Council (ICC) has sought the services of a leading technology institute -- the MIT -- to 'achieve' a uniform Decision Review System (DRS), an innovation which India has been opposing for long.
ICC CEO David Richardson said the Massachusetts Institute of Technology (MIT) has been asked to submit its findings by May on the various systems in place around the world.
"In particular they are looking at edge detection and ball tracking. Their findings will be discussed at our meetings in June and the aim is to achieve a uniform system with the agreement of all the Test-playing countries," said Richardson.
The DRS has faced criticism from several quarters, especially from the powerful Board of Control for Cricket in India (BCCI), for not being 100 per cent foolproof.
The system, which aims to rectify the wrong decisions of the on-field umpires with technological assistance, was introduced in both Test and ODI formats but ICC made it optional for the teams to use it.
DRS is currently employed only when both the teams agree to use it during a series.
Richardson said the technology issue was one of four priorities for the ICC in 2016. He said a major priority is to give context and meaning to bilateral series, in particular Test series.
Richardson has begun consultations with chief executives from Test-playing countries. Today he will meet CEOs of South Africa and England during the second Test between the two countries at Newlands.
Richardson said another priority before the world governing body was to streamline the game in the United States of America (USA).
"There are more people playing cricket in the USA than Zimbabwe and about as many as New Zealand. There are about 80 leagues but it is very fragmented. The USA Cricket Association is currently suspended from the ICC and we have put in an advisory group in an effort to get cricket on a sound footing in America," he said.
Richardson said they also had a meeting with the International Olympic Committee (IOC) to discuss the possibility of including cricket in Olympics.
"The IOC would want a proper format of 11-man cricket, such as Twenty20, and they stress that cricket must be united in wanting to be in the Olympics," said Richardson adding that it will not happen before 2024 Games.