Come Thursday, Dhoni could possibly be his swansong on home turf and a big score to add to his legacy could be the fans' expectations.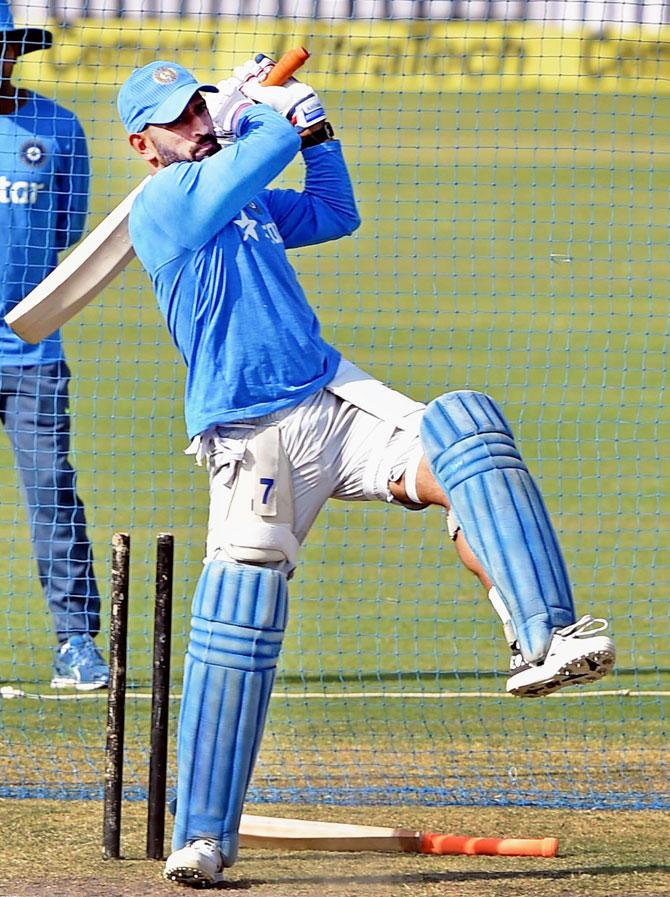 IMAGE: India captain Mahendra Singh Dhoni bats during a training session in Ranchi on Tuesday, the eve of the 4th ODI against New Zealand. Photograph: Swapan Mahapatra/PTI
Mahendra Singh Dhoni is back home for the fourth one-dayer against New Zealand and the people of Ranchi will expect their favourite son to make his blade talk, sing and scream in the series-deciding match on Thursday.
Come Thursday, Dhoni could possibly play his last match at his home ground and the fans will expect nothing but a big score from their local hero.
Having quit Test cricket, there is no guarantee that the talismanic skipper will be around when India play their next match in Ranchi.
At a venue where India have won all their matches -- two in ODIs and one in T20I -- the 35-year-old 'keeper-batsman has had limited opportunity to show his prowess with the bat, his top-score being 10 not out.
Dhoni, who in the last match at Mohali promoted himself to four and hit a 91-ball 80, it seems is determined not to deprive his home crowd one last time.
On a day when Virat Kohli skipped the optional practice session, the 35-year-old was in full intent as he batted for nearly 20 minutes, swinging and swiveling his blade as the ball flew past the boundary on more occasions than one.
Coach Anil Kumble rolled his arm in the nets against Dhoni, and were joined by Hardik Pandya and Manish Pandey.
IMAGE: India captain M S Dhoni with coach Anil Kumble and pacer Hardik Pandya during a training session in Ranchi on Tuesday. Photograph: Swapan Mahapatra/PTI
The skipper earlier had a close look at the pitch and pointed at a few patches to the local curator before heading to the nets.
India's last match played at the venue was a T20I earlier this year when they posted 196 before restricting Sri Lanka to 127/9 in the second T20 of the series where Dhoni scored 9 not out.
Dhoni did not play the last ODI India played here when Virat Kohli's 139 not out steered them to a three-wicket win over Sri Lanka who had scored 286/8 on November 16, 2014.
The pitch is a batting paradise as both teams would certainly look to breach the 300-barrier, something that has never achieved at this venue and in this series.
The best total on this ground has been Australia's 295/8 in the rain-marred ODI on October 23, 2013 but with Dhoni batting with a renewed vigour, his fans here would certainly expect a treat.
"The wicket will be full of runs. We will keep our fingers crossed to see a 300-total here," the local curator said, indicating that evening dew may be a determining factor, making toss a crucial event ahead of the match.
Leading the five-match series 2-1 with their win in Mohali, India would look to seal the issue here before heading to Visakhapatnam for the final ODI October 29.