Going into the final Test against South Africa, Australia are staring at the lowest ebb in their 140-year cricketing history, says Shakya Mitra.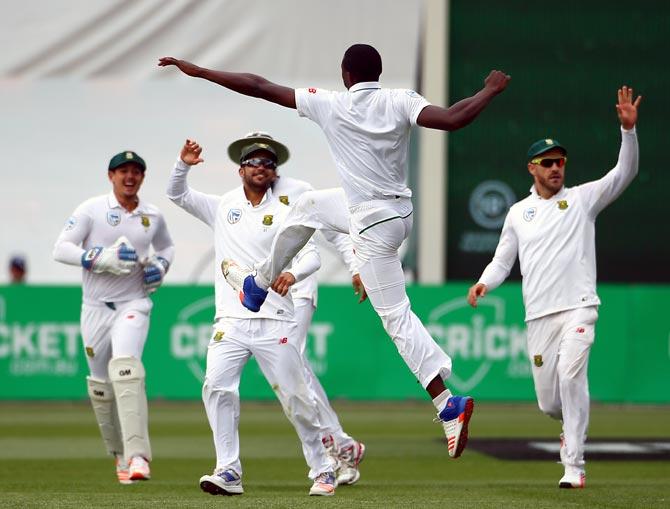 IMAGE: South African fast bowler Kagiso Rabada celebrates taking Australian Captain Steve Smith's wicket. Photograph: David Gray/Reuters
For those of us who grew up in the 1990s and 2000s, world cricket has always been synonymous with Australian dominance.
A 2-1 series win against the mighty West Indies in 1995 gave birth to an era of Australian supremacy, calling time on the Windies' hold over the sport in the process. By 1999, what was once a reasonably successful side turned into a ruthlessly dominant one -- statistically overshadowing even the great West Indian teams of the 1970s and 1980s.
During their pomp -- between 1999 and 2008 -- Australia were beaten in just two Test series -- against India in 2001 and against England in the Ashes of 2005.
On both occasions, the winning team had to literally play out of their skin.
Since October 2008, however, Australia have lost 11 series, including the ongoing one being played out against South Africa at home.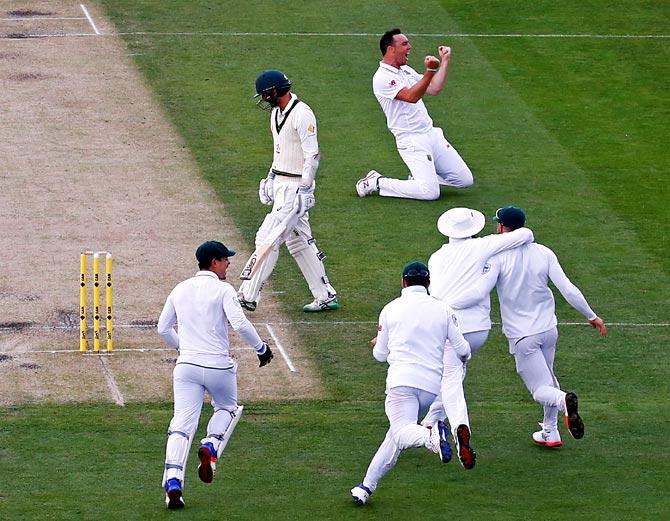 IMAGE: South African fast bowler Kyle Abbott and his team mates celebrate after taking Nathan Lyon's wicket to win the second Test in Hobart against Australia for a 2-0 series win. Photograph: David Gray/Reuters
Australia can be excused for their overseas defeats.
Apart from South Africa, almost all teams have struggled while playing abroad in the last decade.
What is more confounding is Australia's decline at home.
The defeat against South Africa -- a team minus Dale Steyn -- in Hobart last week is clearly the nadir of the once 'invincible squad'.
Bowled out for 85 and 161 in their two innings, the 558 deliveries (just over a day's play) faced by the Aussies were the fewest in a home Test since 1928.
Their defeat in the first Test at Perth was the first time since 1988 that they had lost the opening Test of their home summer.
As they head to Adelaide for the final Test, Australia are staring at what would certainly be the lowest ebb in their cricket history.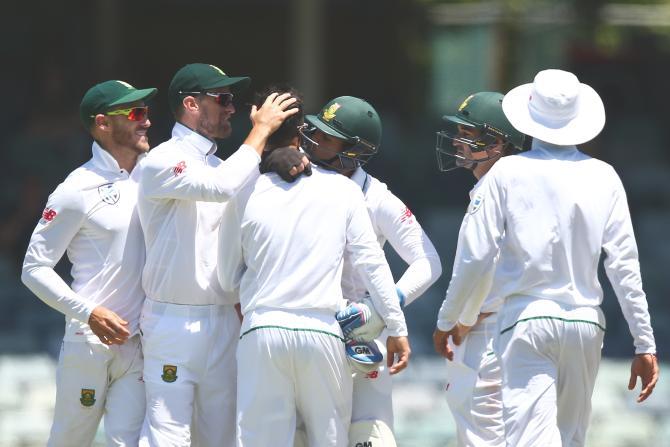 IMAGE: Jean-Paul Duminy gets a kiss from wicket-keeper Quinton de Kock after dismissing Australia's Usman Khawaja in the first Test at the WACA in Perth. Photograph: Paul Kane/Getty Images
In the 140 years since they first started playing Test cricket, Australia have never been whitewashed in a home series involving three Tests or more (they were once blanked in a two-match series back in 1886-1887).
What may be a reassuring factor, though, is that since South Africa's readmission into the game, the Proteas are yet to win a game in four previous attempts at the Adelaide Oval.
That may count for very little, however, for Australia look a broken side at the moment and their opponents very well know the significance of a 3-0 scoreline.
The shockwaves are clearly being felt right across Australian cricket: Chairman of the selectors Rod Marsh put in his papers and coach Darren Lehmann has asked all members of the team that played in Hobart -- excluding Captain Steve Smith, David Warner, and fast bowlers Mitchell Starc and Josh Hazlewood -- to go and play first-class cricket prior to the start of the Adelaide Test.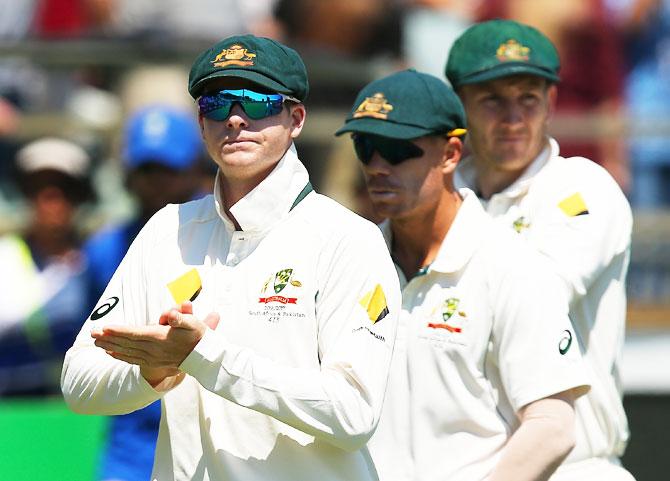 IMAGE: Steve Smith looks on with his team before the first Test at the WACA.
The Aussies, led by the 27-year-old Smith have been called a pampered lot by the media Down Under.
Photograph: Paul Kane/Getty Images
The Australian press has predictably stuck the boot into the national team.
'Not even in the dark hole of 2010-11, nor in the endless middles ages of the 1980s was Australia this brittle,' wrote The Sydney Morning Herald last week.
The Daily Telegraph wrote, 'Australia's players are overpaid and mollycoddled to the point where the priceless quality that separates the great from the good -- resilience -- is almost invisible.'
The press is probably right, and for even those who have seen a decent Australian side, the lack of fight and resilience in this current Australian team is evident.
In great teams, turnovers are bound to happen but for every great player who leaves, another potentially great player walks in.
That is what kept Australia going after the likes of Steve Waugh, Adam Gilchrist, Shane Warne, Glenn McGrath and Matthew Hayden retired.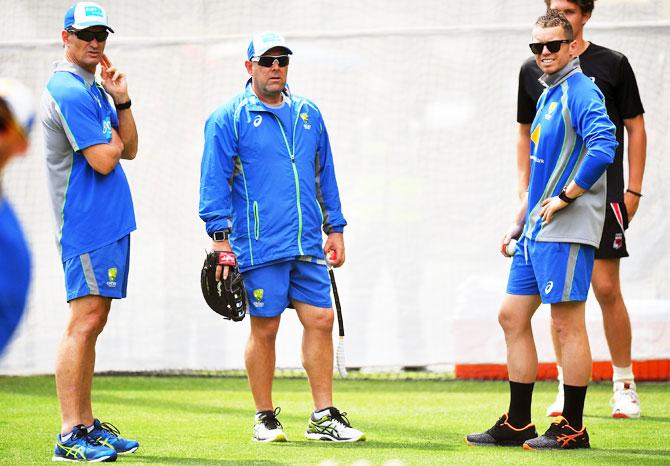 IMAGE: Australia's batting coach Greame Hick chats with coach Darren Lehmann and pacer Peter Siddle during an Australian nets session at Adelaide Oval in Adelaide, November 21, 2016. Photograph: Daniel Kalisz/Getty Images
Last year, another bunch of world-class players retired, a list that included Michael Clarke, Shane Watson, Mitchell Johnson and Brad Haddin.
The transition hasn't been smooth -- their troubles against South Africa come on the back of a 3-0 hammering at the hands of Sri Lanka.
More worrisome than the defeats is the nature in which they have come, with batting collapses having become routine.
Where does Australia go from here?
Cricket Australia remains one of the best-run cricket boards in the world, but of late, it is becoming increasingly visible that the country's annual T20 extravaganza, the Big Bash, is generating higher television ratings and better audiences than Test matches.
One hopes that the board doesn't let its focus fritter too much, else there may be very little left to admire in Australian Test cricket.