'There's a funeral tomorrow, let's just understand that's going to be difficult enough as it is'
'But this is tough for some boys and it is going to be tough for me'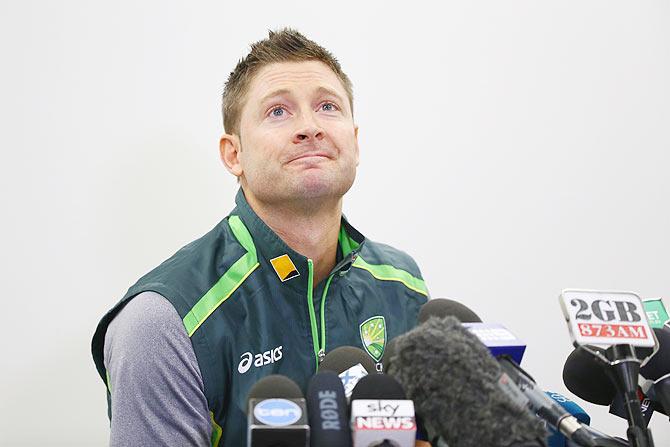 Michael Clarke. Photograph: Mark Kolbe/Getty Images
Cricket Australia will be understanding of players who feel uncomfortable about playing in the wake of the death of Phillip Hughes when the rescheduled India Test series starts next week, chief executive James Sutherland said on Tuesday.
Sutherland was speaking at Sydney Airport before his flight to Macksville, where Hughes will be buried on Wednesday some six days after he died from a catastrophic injury caused by a ball striking him in the back of the head during a domestic match.
The reshuffle of the India series, which was originally scheduled to begin in Brisbane on Thursday, was announced late on Monday with the Adelaide match now the first of the four Tests and starting next Tuesday.
Admitting that the new arrangements were by no means "perfect", Sutherland expressed his thanks to the understanding shown by all stakeholders but reiterated the welfare of the players was secondary only to that of the Hughes family.
"There's a funeral tomorrow, let's just understand that's going to be difficult enough as it is," he told reporters.
"I'd encourage everyone to give players their space and let them in their own way work through that.
"It's absolutely up to the individual (whether they play), and any player that is not comfortable or doesn't feel right, or there is medical advice that it is not quite right, we will obviously understand that."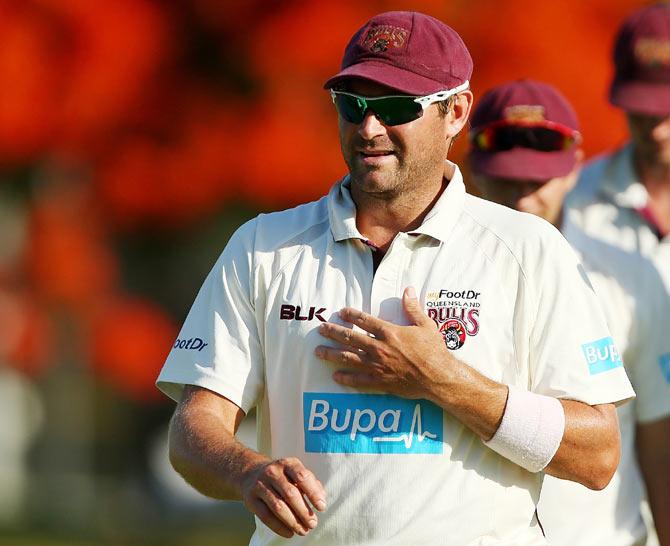 Ryan Harris. Photograph: Chris Hyde/Getty Images
Pace bowler Ryan Harris, who was included in the squad for the first Test despite being on his way back from knee surgery, later said he was not sure he would be emotionally ready to bowl in Adelaide.
"Tomorrow is the day we are thinking about. In the back of our mind is Tuesday and we have got to do what we can to try to prepare for that," he told reporters in Brisbane.
"I'm still thinking about it and I'm not sure, see how we go tomorrow, I guess. But this is tough for some boys and it is going to be tough for me. I will have to work it out when I get to Adelaide and see how we all feel.
"The boys who were there who witnessed what happened I can't speak for them because I can't imagine what they are going through."
Sutherland said consideration had been given to cancelling the Brisbane Test, which is worth some A$20 million ($16.97 million) to Cricket Australia and will now be squeezed between the Adelaide and Melbourne Tests from December 17-21.
"To be honest it was close, there were only a few days in it, but in the end we've been able to get to a solution that I believe was optimal," he said.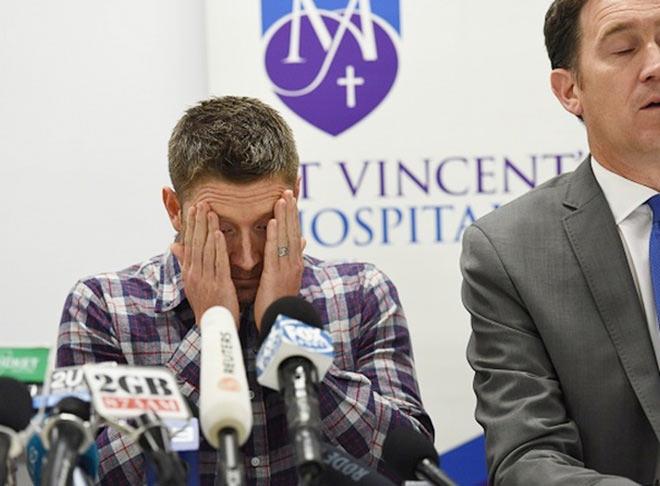 Australian cricket captain Michael Clarke, left, reacts alongside Cricket Australia CEO James Sutherland during a press conference in Sydney. Photograph: Joosep Martinson/Getty Images
"I just hope everyone will understand the big picture here, these are tragic and extraordinary circumstances."
Alistair Nicholson, chief executive of the Australian Cricketers' Association (ACA), represented the players in the discussions about the rescheduling and said the solution satisfied their two main concerns.
"It was very important that the Hughes family were given a chance to lay Phil to rest and the preparation time was also important," he said.
"Because of the need to play five days of intense cricket against India, the appropriate amount of preparation time was paramount.
"It's obviously going to be a tough summer with four Tests against India and the World Cup but the players will now be able to focus because there's now certainty."
Sutherland said the Hughes family had been "overwhelmed" by the outpouring of sympathy from around the world and said he hoped the funeral -- three days after what would have been Hughes's 26th birthday -- would provide a measure of closure.
"We're headed to Macksville for a funeral and hopefully that's a great celebration of Phillip's life and then we can move forward," he said.
"At the same time, we understand the challenge for our players and those closest to the Hughes family, and of course the Hughes family."