'This is the only country where success seems to be viewed as a bad thing.'
'Other governments and countries go out of their way to protect a successful organisation. Here we find ways of destroying it.'
Ajay Shirke, the BCCI's new secretary, discusses the Lodha Committee's suggested reforms for cricket in India with Harish Kotian/Rediff.com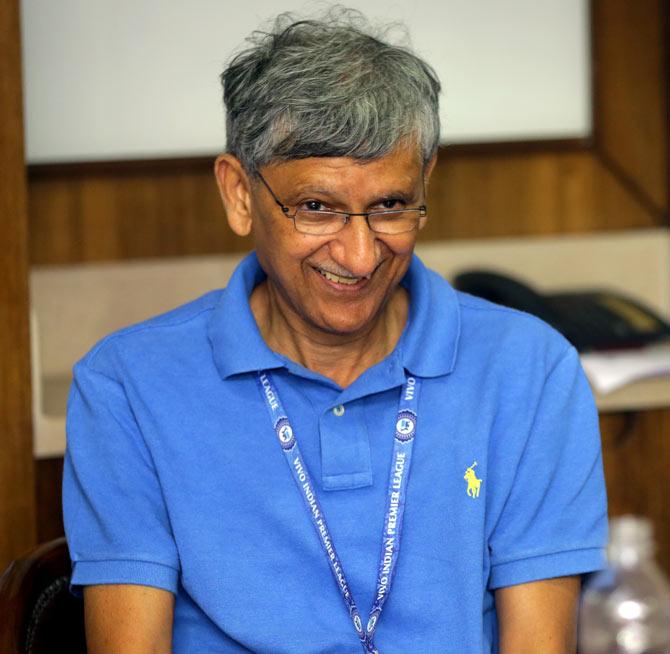 IMAGE: Board of Control for Cricket in India Secretary Ajay Shirke. Photographs: BCCI
Ajay Shirke made his foray into cricket administration with the Maharashtra Cricket Association in 2003 and took over as its president two years later. It ended the long-standing reign of Dnyaneshwar Agashe, who presided over the association for more than three decades.
Shirke immediately brought about a significant change in the MCA's functioning. Before he took over, cricket in the region was limited to a big city like Pune. He brought districts like Nashik, Latur and Ratangiri into the MCA fold and provided youngsters from the region an opportunity to play for the state team.
Shirke discusses the Justice Lodha Committee's suggested reforms in the concluding part of his exclusive interview with Harish Kotian/Rediff.com
Tell us about your foray into cricket administration.
Cricket is very old in this country. At that time, the Maharashtra Cricket Association was governed by the old constitution; in fact the constitution didn't even define the territory of Maharashtra; it talked about Dharwad, Karwar, which was old and which didn't even form a part of our current Maharashtra. It had become very city-centric.
The method was such that only clubs from Pune were eligible and anyone else who wanted to play had to essentially come to Pune or migrate to Pune or stay in Pune and find a club based in Pune so that he could get a chance.
When the game had spread after the advent of one-day cricket, it had grown immensely and started going down to the districts. So we used to see a large influx of boys from the mofussil (non-urban) areas simply begging for a slot in the 8 or 10 clubs that were privileged to play.
This is something that I fought for within the organisation for a long, long time. I wanted to change it, otherwise we would never be able to spread the net.
Poor people could not come to the city; they might have an abundance of talent, but they would struggle to even reach Pune.
The fighting from within got nowhere, so that is when we decided to take the fight a little beyond. We requested the association to make changes to the structure. Obviously, that didn't go anywhere. Then there was a keenly fought election (in 2003) after which I made my bow into cricket administration.
A big war started in court and that is when I realised I had to change the constitution of the MCA. Some 50-odd court orders happened in total, including from the charity commissioner to the Pune court to the Bombay high court to three writ petitions and one SLP (special leave petition) in the Supreme Court.
18 months later, we got a brand new constitution; it had the representation for every district cricket association and at the same time retained all the old members. That is why the MCA is a very widely represented body. We have 26 members in the MCA managing committee.
That is how I came into cricket administration. Before me, nobody had taken on the old regime, which was in existence for 30-plus years.
How did you create an identity for the Maharashtra Cricket Association? It is considered one of the best run associations in the country.
A lot of the media said this is going to be the most unruly association because they are all 'villagers' from small districts. In fact, they were all cricketers who had suffered from the city-centric system of the past.
It was speculated that they would all fight amongst themselves. It has been nine years since that day and every decision in my association is unanimous.
It is not that unanimity is thrust on everyone. I am hardly there in the MCA. We have created a second-line team, a third-line team.
For every match you will see all the members of the committee travel from their little villages or wherever they are -- from their talukas and districts -- for the game, for the managing committee meetings. They will travel by ST (State Transport) buses or bikes and everybody stands at the gates.
Show me one association which surrenders the 15 percent of IPL match tickets back to the franchise. We surrender it, forget about giving additional passes. We give the 15 percent also back to the franchises. And this is all possible due to the commitment of the people who are in the association, their honesty and their integrity. They have shown that it is possible.
For our association members we need only 250 tickets; we return the rest to the franchise and the association gets money for it.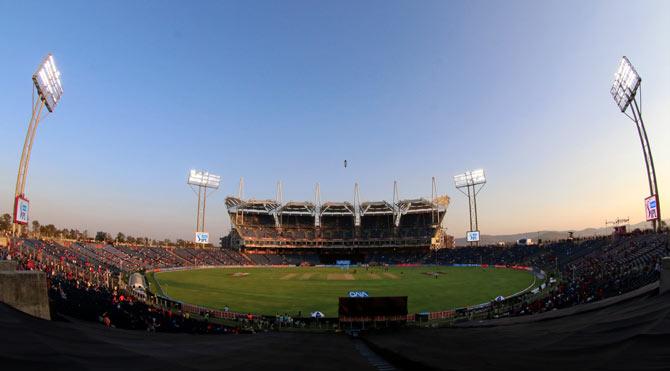 IMAGE: The Maharashtra Cricket Association stadium in Pune.
You famously took on Sahara India Parivar and its chief Subrato Roy over the naming rights to the MCA stadium in Pune.
I didn't take on Subrato Roy Sahara. I fought my battle of non-payment on principles.
As far as Mr Roy is concerned, I have gone to Tihar jail and personally met him. Let me tell you that when I became (BCCI) secretary he was the first one to congratulate me on the telephone. So there are no fights between people. There is a big distinction.
He didn't pay, there were disagreements over certain things, so I had to cover the name. They came back and wanted to play another season, they said that 15 days the name should be on, so we removed the covers. They agreed to that and after the match was over we put back the covers.
The point is that there can be a dispute, but it can't go the level of a personal fight.
Your toughest day as an administrator so far?
There are no tough days because I have no agenda. If you have some personal agenda, then you will have some tough days, but I don't have any agenda except to work for the best interest of the board.
If people don't like my work here, I have a lot of other things to do -- be it running my business or my hobbies. Spending more time with my dogs gives me equal pleasure as doing any work that I undertake.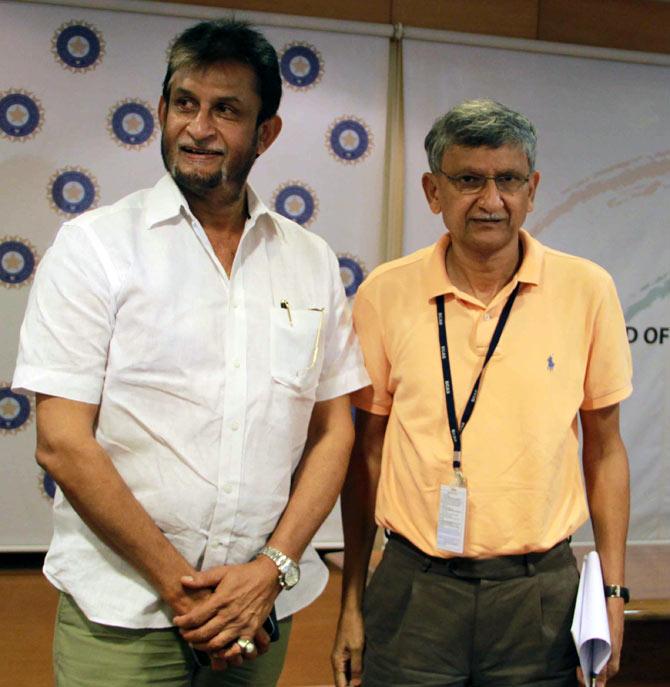 IMAGE: BCCI Secretary Ajay Shirke, right, with Chairman of the Selectors Sandeep Patil.
How much has cricket administration evolved since you first started?
The BCCI is beaten up by all of you (the media)!
As citizens of this country, if we think and believe that this type of judicial over reach (is good) then you are in danger as individuals of something like this happening to you.
Please bear that in mind, today it is the BCCI, tomorrow it could be anyone!
Here I would quote from a very well-written para from an article that I read in a recent issue of Outlook magazine, relating to the cricket-related matter, which goes: 'It is this lack of understanding of its own limitations, accompanied with a messianic zeal to champion middle class cause celebres, that should give us cause to worry. An SC utterly convinced of its own virtue and unaccepting of any restraints on its power is no friend of civil liberties or the rule of law.'
Apply objective norms to BCCI, not subjective.
What is the BCCI? Does it take a single penny from the government? It earns all its money, it markets its game.
There was a time not so long back in history when it did not even have Rs one lakh (Rs 100,000) to reward the World Cup-winning team (in 1983).
We evolved our own strategies and we came here. We pay thousands of crores in taxes, unlike other sports which take large funding from the public exchequer.
BCCI has paid thousands of crores to the exchequer in direct and indirect taxes. Every year, we earn about Rs 400 crore to Rs 500 crore (Rs 4 billion to Rs 5 billion) in foreign exchange. We are looking after our retired people, not only players, but umpires and other staff.
We have created pathways where a boy from the back of beyond can make it to the Indian team. We have created a tournament like the IPL.
Many other Boards would like to achieve what BCCI has, but here we want to disempower the BCCI under the name of reform.
Some sections of the media say we dominate the ICC (International Cricket Council). We don't dominate, but we have earned a position of respect in the ICC. There is a big difference in that.
Till not so long ago the chairman of the MCC (em>Marlyebone Cricket Club) by default used to be president of the ICC. Mr Jagmohan Dalmiya broke this monopoly for the first time.
This is the only country where success seems to be viewed as a bad thing. Other governments and countries go out of their way to protect a successful organisation. Here we find ways of destroying it.
We have lost sight of the (Supreme Court) order also. The order was to suggest reforms to improve administration of the BCCI.
By removing advertising from cricket, will BCCI become better? Where is the connection? I don't get it!