Pakistan's tainted former skipper Salman Butt has called on the Cricket Board (PCB) to appoint senior batsman Misbah-ul-Haq as captain for the World Cup to be held in the sub-continent next month.
Butt, who along with pace bowlers Mohammad Asif and Muhammad Amir, will have to wait till February 5th to learn his fate in the spot-fixing row, also described flamboyant all-rounder Shahid Afridi as a "clueless" captain.
"This is more or less the same team that plays in Tests and One-Day matches. But when they played recently in the Tests they looked like a different side and when they are playing 50-overs cricket it appears as if they don't know what direction to take," Butt told the News One channel.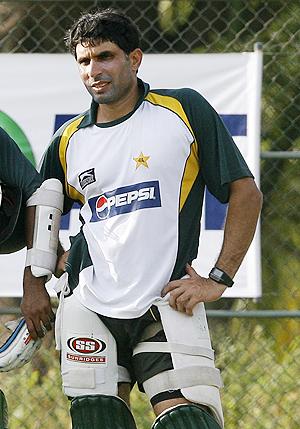 "Misbah is the ideal man to lead Pakistan in the World Cup. He is a born captain and an ideal leader. The best part about him is that he is composed and leads by example," said Butt.
Butt, who was suspended last September by the ICC while he was captain of the Test team in England, only added fuel to the ongoing debate over the World Cup captaincy with the PCB yet to announce the leader for the quadrennial event to be held in India, Sri Lanka and Bangladesh.
With Pakistan whipped badly in the first ODI in New Zealand and Misbah standing out with a half century, the calls for him to be made captain are only growing louder day by day.
"I think the present One-Day team is stronger then the Test side. When you look at the few changes there are senior players coming into the ODI squad who have been playing international cricket for last 15 years.
"But I think because of poor planning and weak captaincy the ODI side is struggling," the former skipper added.
Referring to the defeat in the first ODI at Wellington, Butt put the blame on poor planning and weak leadership.
"If you have a player (Afridi) who is clueless then how can he lead the team because even if he says something to the other players no one is listening to him," Butt said.