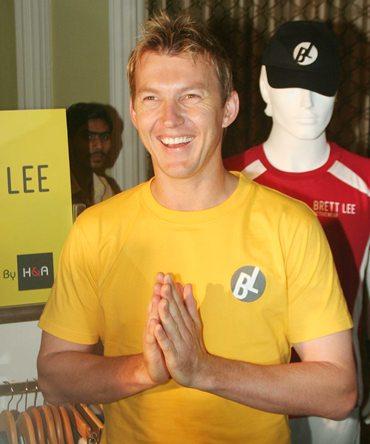 Brett Lee at the promotional event in Mumbai. Photograph: Hitesh Harisinghani/Rediff.com
After being part of a Bollywood film and music video, former Australia cricketer Brett Lee is set to become a full-time actor in an Indo-Australian romantic comedy, aptly titled UnIndian.
The 37-year-old pacer, who announced his retirement from international cricket in 2012, says he was approached to do films for the past ten years but did not feel it was the right time until now.
"For the past ten years I have been asked to do a film, but it wasn't the right time, wasn't the right script or wasn't the right movie. So I didn't do it. I was so fixed on my cricket. And I guess now that I am going through this transitional phase I thought why not give it a try. This was such a great opportunity," Lee told Press Trust of India.
The cricketer, who juggles between cricket commentary, business and charity, says he took up the film because he did not want to regret not doing it later in life.
"In life, I have always wanted to do other things rather than just cricket. I don't want to get to the age of 50 and feel I wish I had done a movie. I have always given my 100 per cent in whatever I have done and will do that with the film as well," he said.
UnIndian will be directed by Anupam Sharma, an Indian origin-director, actor, producer and author from Australia.
The film was announced on Thursday by Australia's Prime Minister, Tony Abbott, in Mumbai and will be produced by the recently-established Australia India Film Fund (AIFF).
In the film, Lee, who has a huge female fan-following in India, will be seen romancing actress Tannishtha Chatterjee. He says he is comfortable doing a romantic film as it suits his real life personality.
"A romantic comedy is a good genre. It suits my character. May be, I can do an action film later. Just like me, my character is also in love with all things India. I am looking forward to begin shooting for the film shortly," he said.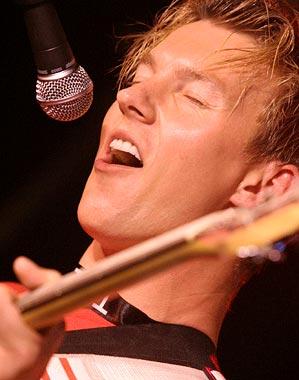 Having already begun preparing for his role in the film, Lee says he has a new-found respect for actors having realised how gruelling their job is.
"There is a lot of preparation that will take place in the next few months. I have been taking some acting lessons and a couple of vocal lessons too. I have done a lot of research and I have a new-found respect for the actors now and for the rigorous preparation they go through," he said.
Lee, who plays with Australian band Six and Out, says he may record a song for the upcoming film.
"There are no songs in the film. There will be songs around the film. There might be a song which I will sing but nothing has been decided yet," he said.
UnIndian is currently in pre-production stage and will go on floors this November in Sydney. The film is slated for global release in April 2015.
The film director, Anupam, who has a long association with Lee, says he zeroed down on Lee as the male lead in the film as the cricketer is both talented and commercially viable.
"Brett is one person who is genuinely in love with India. He can charm the audience, he has got a lot of talent which has been untapped. Even without a single film he has a huge fan-following. We got the ideal combination in Brett -- art, creativity and commercial package," Anupam said.
The filmmaker also revealed that there will be several high-profile stars from around the world who will do cameo in the film.