The English team flies to Dubai for a break.
The next Test begins on December 8 in Mumbai.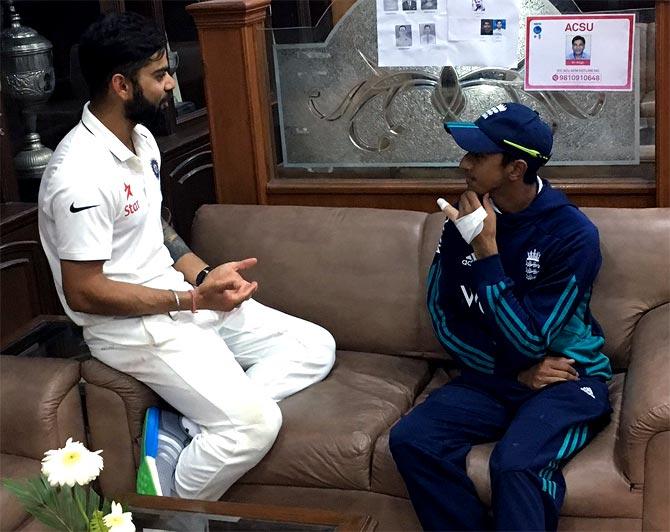 IMAGE: India captain Virat Kohli speaks to Haseeb Hameed after the third Test in Mohali. Photograph: BCCI/Twitter
England opener Haseeb Hameed will miss the rest of the series against India due to a hand injury after making an impressive start to his Test career.
The 19-year-old right-hander -- who scored a defiant unbeaten 59 on Tuesday, November 29, batting down the order in the second innings of the third Test -- will return home to get a plate inserted in his hand.
"He is out of the whole tour, he is going home. A replacement will be called," Captain Alastair Cook told reporters after his team's 8 wicket loss at the Punjab Cricket Association Stadium.
Hameed made 9 runs in the first innings before he was struck on his left hand by an Umesh Yadav delivery and could not field in the match, which India won to go 2-0 up in the five Test series.
He came out to bat at number 8 in the second innings and frustrated the Indian bowlers despite clearly being in pain.
"It's obviously unlucky for a youngster who impressed us all with his technique and talent and obviously now his bravery and determination," Cook said.
Hameed had to alter his grip to be able to bat in what Cook described as "a very special knock."
India Captain Virat Kohli was also impressed. "I wish him a speedy recovery. He showed great character for a 19 year old at this level. He put his hand up when his team wanted him to do it."
"The way he played with (James) Anderson in the end showed great maturity, to play with tail like that. He knew exactly what he wanted to do," the Indian skipper added.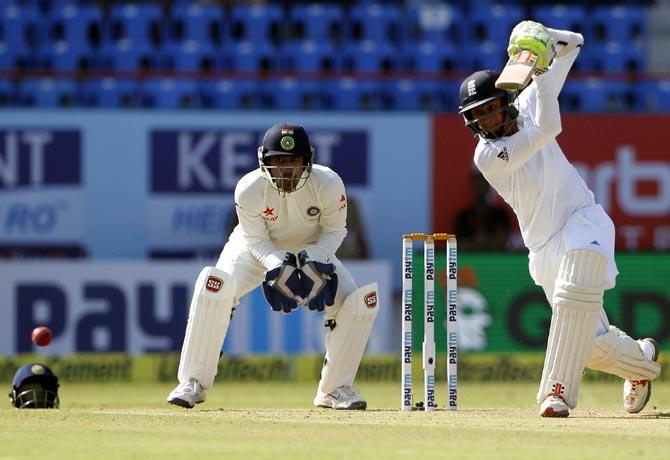 "You can sense it as a captain, this guy is intelligent and knows the game. He is a great prospect for England and definitely going to be a future star in all forms if he keeps persisting with his skill," Kohli said.
Hameed made 82 on his debut in the first Test and scored 219 runs in the series at an average of 43.8 to stake a strong claim to be Cook's long-term opening partner.
The England team will now fly to Dubai for a break as the next Test begins on December 8 in Mumbai.
"The break has come at a very good time," Cook said, "obviously three back to back Test matches. I don't think we have to play four in a row, but you never know. We have this week off and I think most people are going to Dubai, mentally it will be a break from cricket. We come back a little bit more refreshed."
"The challenge is to try and put in that performance which consistently over five days we play well. We have done that in one game, we haven't done it in the other two."
IMAGE: Despite an injury Haseeb Hameed defied the Indian bowlers for over three hours to score an unbeaten 59 in the England second innings. Photograph: BCCI