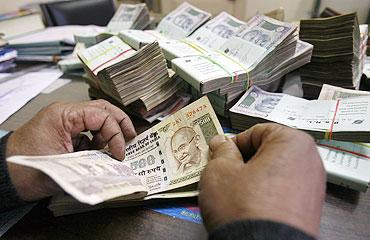 Spot-fixing occurs in nearly every game, but with most cricketers getting away with a rap on the knuckles, there is never any real fear of going to jail. Vicky Nanjappa reports.
The biggest betting cartel is controlled by fugitive gangster Dawood Ibrahim. The 'D Company', as it is called, has its tentacles in almost every betting cartel across the cricketing world.
The bookies have evolved, somewhat. Earlier, these crooks operated from shady hotels, but with the police scrutiny being high lately, many bookies choose to operate out of vehicles.
Most of the bookies arrested on Thursday operated from vehicles.
The bookies often target the most vulnerable players in teams, often approaching them at hotels and striking a casual conversation, sizing them up. This once prompted Yuvraj Singh to warn his team-mates to stay away from strangers.
'Most of the strangers who try to approach cricketers are bookies,' Yuvraj said in an interview, 'and it is entirely up to the cricketer to tell them to mind their business.'
The maximum number of alerts sounded on betting on cricket games come from Mumbai, but the local police's reaction time in such cases is very slow.
Players often get away with short-term bans or suspensions which ensures there is no fear of going to jail, says an intelligence source.
Post Bengaluru's Chinnaswamy Stadium blasts in 2010, the Karnataka administration had stated it was the handiwork of a local betting cartel who wanted an Indian Premier League game to be moved to Mumbai since it was not possible to fix a game in Bengaluru.
That angle was never investigated thoroughly, but the game was moved from Bengaluru to Mumbai.
A 'sting' operation conducted on some cricketers by a news television channel last year was not probed properly either.
"The police and the Board for Control of Cricket in India should get to the bottom of the matter rather than conduct run-of-the mill inquiries," an Intelligence Bureau agent points out.
While the biggest betting cartels operate from Mumbai and neighbouring areas, a major cartel was busted in Patiala, Punjab, recently. Thirteen men were arrested while betting on an India-England Test.
The investigation revealed that the bookies reported to two cartels -- one based in Mumbai and the other in Ahmedabad.
This gang of bookies was technologically savvy and operated from three houses. The police have failed to arrest their counterparts in Mumbai or Ahmedabad, as a result of which the investigation has not progressed much.