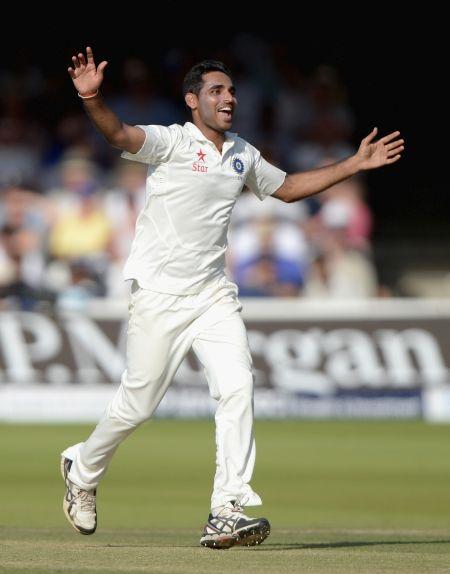 Indian fast bowler Bhuvneshwar Kumar was declared winner of the LG People's Choice Award as he pipped South African paceman Dale Steyn and Australia's Mitchell Johnson in the voting by the fans.
England women's captain Charlotte Edwards and Sri Lanka captain Angelo Mathews were also among the nominees.
Bhuvneshwar is only the fourth cricketer and third Indian to win the coveted prize after Sachin Tendulkar (2010) and India captain Mahendra Singh Dhoni, who won it last year.
Sri Lanka's Kumar Sangakkara had won back-to-back awards in 2011 and 2012.
"First of all, I'd like to thank each and every one who has voted for me in the LG People's Choice Award. This award means a lot to me as I didn't get it only for my individual performance but because of the love and support of my fans," Bhuvneshwar was quoted as saying in an ICC release.
"Where I am today is because of my parents and coaches, and whatever they taught me in life as a person. I'd also like to thank my team-mates because without their support this won't have been possible. So, thank you so much," he added.
BCCI congratulated the fast bowler for getting the award.
"He has been one of our most consistent cricketers with bat and ball in the recent past. On behalf of the BCCI, I congratulate him, and wish him all the best for the forthcoming matches and series," BCCI secretary Sanjay Patel said in a release.
The award was introduced at the LG ICC Awards 2010 in Bengaluru, with fans voting for their favourite player either through the official website www.lgiccawards.com or via Twitter. Voting commenced on October 8 and closed at midnight UAE time on 30 October.
The shortlist was nominated by an elite panel of cricket experts, which is headed by ICC Cricket Committee chairman and former India captain Anil Kumble.
Other members of the panel are Jonathan Agnew, a former England international and now a respected broadcaster/journalist, ex-Sri Lanka opener Russel Arnold, former New Zealand captain Stephen Fleming, and Betty Timmer, former chair of the ICC Women's Committee.
Image: Bhuvneshwar Kumar
Photograph: Gareth Copley/Getty Images