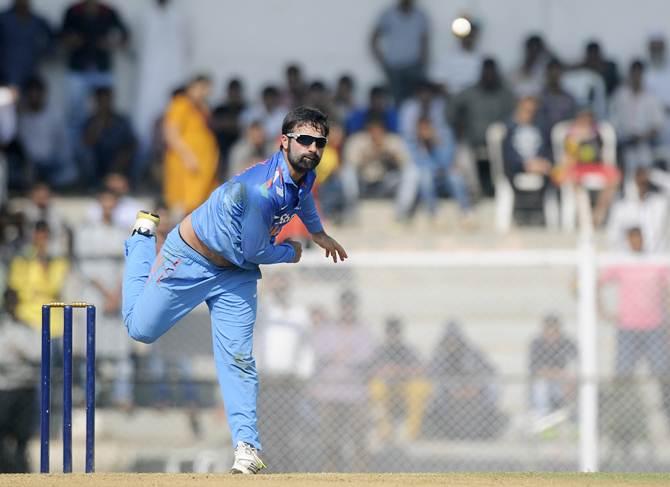 Parvez Rasool. Photograph: BCCI
'An off-spinner who can bat. He is by far the best off-spinner that the country has at the moment and a brilliant tonker'
Proud of seeing Jammu and Kashimir cricket getting noticed after its historic victory over Mumbai in their opening match of the Ranji Trophy, former India captain Bishan Singh Bedi said the team from the Valley boasts of many a talented player and singled out Pervez Rasool for a World Cup berth.
"Pervez Rasool, what a player! An off-spinner who can bat. He is by far the best off-spinner that the country has at the moment and a brilliant tonker. To me, he should be in the World Cup team," the legendary left-arm spinner said.
Having coached the team for a couple of years, from 2011-13, Bedi not only shares an emotional bond with the players but feels the victory over Mumbai was no fluke.
"They have such good players in their side that even Delhi will not have such players. I am not kidding. Mind you, the win against Mumbai is no fluke, because these boys always had it in them. Their pace battery, their spinners and their batsmen are all worthy of making it big," Bedi said.
"Ye Allah ka karam hai, Allah ki rahmat hai, ye uski meherbaani hai (It is God's blessings and his kindness). They have fire in their bellies to perform but there is no infrastructure. They just have a few T20 clubs. Jungle mein more naacha, kisne dekha waali baat hai (It's like a peacock dancing in the jungle and nobody noticing it)."
"Maine toh jo inke andar aag hai, usko bas ek chingari lagayi hai (I have just ignited a fire in them which was already there)," he added.
Bedi, who signed a three-year deal with the state association in August 2011, rued the callous approach of the board in dealing with the players.
"What is happening in all the boards, including the national board, is just the tip of the iceberg. This callous approach will not work. This attitude of leaving it for tomorrow has brought the downfall of many an administrative set up and the same applies for Jammu and Kashmir.
"I got to know that the players have not been paid for two years.
"What to talk of players. I have not received my dues of one year, that's why I left them. But I am in constant touch with the players and will be there for them whenever they need me."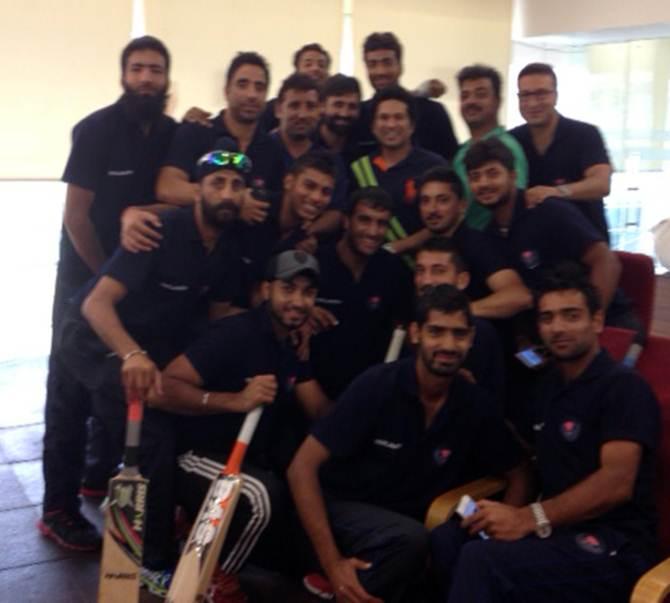 The Jammu and Kashmir team with batting icon Sachin Tendulkar after beating 40-time champions Mumbai in their opening Ranji Trophy match of the season. Photograph: Umer Asif

Like a proud father figure, Bedi also spoke highly of many individuals in the current team and urged the people concerned to have a look at many an Indian prospect from the valley.
"The problem is that nobody even looks at them. I can just just keep recalling the players and the talent comes oozing out. Bowling all-rounder Ram Dayal is a brilliant player from Jammu. He is in the Kapil Dev mould.
"Shubham Khajuria, a good opener. Ian Dev Singh, another good opening bat. Hardeep Singh, a very good batsman. The administrators are just turning a blind eye to the talent from the valley. They are just sipping hot tea in their cosy offices," he fumed.
The 68-year-old former Indian spin sensation, though, cautioned the J&K players from getting complacent.
"I told the players in my humble way that we are not just participating in competitions but we are playing to win. They won a match or two in the opening season. Then they just improved. And see what they have done. But, mind you, it will not be easy for them to sustain their success. They beat Delhi and Services in the Vijay Hazare Trophy but lost the subsequent matches.
"So the lack of good tournaments in their state is hurting them."
Known for speaking his mind without fear, the former India captain said it's the young players who will need to change the mindset of people.
"Any bit of change that needs to be brought will rest on the shoulders of these young kids. Our time is over. The youngsters should take it upon themselves to take matters in their own hands and make sure that things improve. And God will help them, Inshallah."