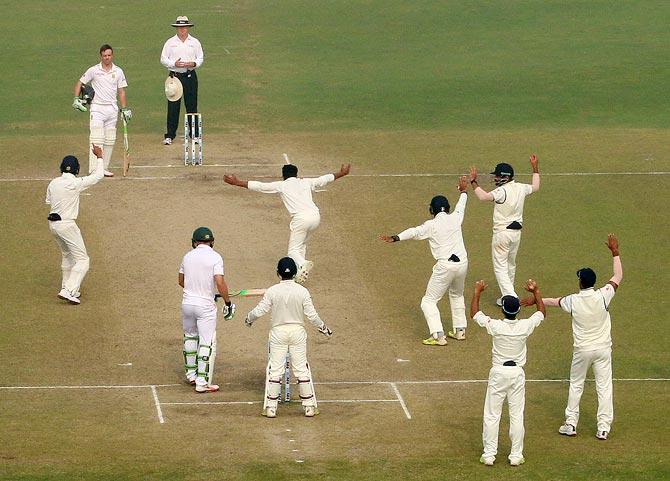 IMAGE: The Indian players appeal for a wicket during a Test match against South Africa, in Delhi, in December 2015. Photograph: BCCI.
India will use the Decision Review System (DRS) on a trial basis in the upcoming five-test series against England to assess improvements made to the technology, the country's cricket board said on Friday.
The influential Indian board (BCCI) has long been a staunch opponent of the DRS system, which aims at reducing umpiring howlers by detecting edges and predicting the ball trajectory to ensure correct catch and leg-before decisions.
"In the meeting with the ICC and the Hawk-Eye officials, the improvements made to the system were further evaluated by the BCCI team, who were satisfied that most of the concerns and suggestions that were expressed by BCCI over a period of time, were addressed to a significant extent," the board said.
India played in the first series that used DRS against Sri Lanka in 2008 but the BCCI have since refused to allow its use in any bilateral series involving its team.
Test captain Virat Kohli recently hinted that India were finally ready to embrace the system.
"We are happy to note that Hawk-Eye has institutionalised all the recommendations made by BCCI, and we confirm that this improved version of DRS will be used on a trial basis during the forthcoming series against England," BCCI president Anurag Thakur said in a statement.
"Based on the performance of the system and the feedback that we will receive, further continuation in forthcoming series will be decided.
"We recognise the enhanced role of technology in sport and BCCI will lead such initiatives in coming days, and enrich the viewer experience."
England will tour India for five Tests, three One-Day Internationals (ODIs) and three Twenty20 Internationals (T20Is) later this year. The first of the five-Test series will kick-off in Rajkot on November 9, 2016.