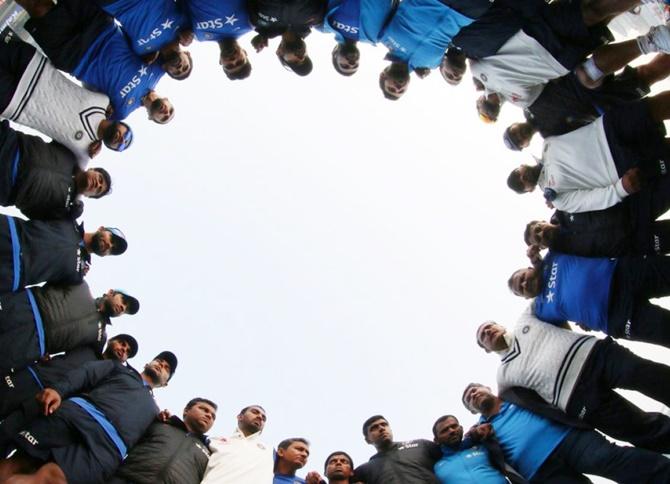 The world's richest cricket board was set to pocket nearly double of what it gained from the previous cycle of media rights after bidding for the next five years of Indian cricket could not be wrapped on Wednesday.
The e-auction of television and digital rights, a first in cricket, will enter a third day but the Board of Control for Cricket in India (BCCI) received a bid of 60.33 billion rupees ($926.44 million) for consolidated global rights from an unidentified bidder before close, a board source told Reuters.
Star India paid 38.5 billion rupees for the rights to broadcast India's home matches for the 2012-2018 cycle.
After the second day, BCCI's media rights value has already gone up by 56 percent with the per match value touching nearly Rs 60 crore (Rs 59.16 crore) for 102 international games across three formats.
This is already Rs 17 crore more compared to Rs 43 crore (per match) during the earlier period (2012-2018).
"This is the power of Indian cricket. It can resist any kind of negativity, administrative mess and even bigger controversies. The potential bidders know that in India, only one sport can give you proper return on investment. We don't know who has the top bid but the pattern indicates that all three are still in the race if you see the bid amounts," a senior BCCI official, who is tracking the auction, told PTI on Wednesday.
The BCCI brass is expecting that a clear winner will emerge by Thursday late afternoon.
"Every bidder has its threshold. They are slowly reaching that point. If it reaches Rs 7000 crore, it will be another landmark financial deal for Indian cricket," said the official.
The day started with top GCR bid of Rs 4442 crore. Subsequently, some of the top bids were Rs 4565.20 crore, Rs 5488.30 crore, Rs 5748 crore. It breached Rs 6000 crore mark (Rs 6001 crore) at around 4:30 pm before closing at 6032.5 crore -- minutes before the cut-off time of 6 pm.
The BCCI had secured its position as the world's richest cricket board in September with the game's biggest TV deal when it sold Indian Premier League's (IPL) global media rights to Star India for a staggering $2.52 billion.
Six companies, including Facebook and Google, initially entered the fray to bid for 102 matches in India from June, 2018 to March, 2023.
Following scrutiny, Star India Private Ltd, Reliance Industries Limited, and Sony Pictures Networks India Private Limited were found eligible to submit online financial bids.