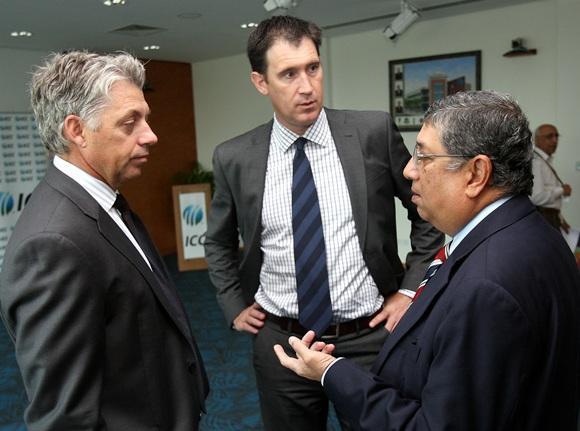 IMAGE: Narayanaswami Srinivasan (right). Photograph: Rohan Karthik/Getty Images
A section of the Board of Control for Cricket in India's old guard, especially from the Narayanaswami Srinivasan faction, is set to advocate a pull-out from the Champions Trophy despite the Committee of Administrators' (COA) warning of possible consequences.
The COA met the state units in two sessions ahead of Sunday's Special General Meeting where implications of a pull-out were discussed threadbare.
It is learnt that North and East Zone units members are against a pull-out while the South Zone, which is still controlled by Srinivasan, is in favour of a pull-out.
Some old timers like Niranjan Shah of Saurashtra (west zone) openly advocated pullout to 'teach the ICC a lesson'.
It could be a mixed mandate if the governing body decides on floor test.
For the record, Railways, Services and All India Universities are institutional votes in which the decision will be taken at the top government level.
Even more serious was conflicting versions about team selection.
Acting president CK Khanna stated that May 8 is team selection date but joint Secretary Amitabh Chaudhary sarcastically said, "I am the convener and I don't know that there's a team selection on Monday (May 8)!"
However, according to another senior office-bearer, acting president Khanna is not off the mark.
"If Amitabh doesn't convene the meeting, there is every possibility that CEO Rahul Johri will instruct MSK Prasad and Co. to announce the team," the office bearer.
The North and East zone units met COA on Saturday followed by West and South.
"COA chief Vinod Rai told us that if BCCI goes for a pullout then they won't shy away from moving the Supreme Court. He told the senior office-bearers (joint Secretary Amitabh Chaudhary and treasurer Aniruddh Chaudhry) that negotiations are paramount," an official from an institutional unit said.
It is learnt that COA apprised the members of how India will have to pull out of all ICC tourneys till 2023.
"Vikram Limaye told members that if they again take a confrontational approach, let them be sure that they won't get $ 570 million. A legal letter would mean ICC would not be shy of fighting the battle in the courts," the participant said.
However, there were some constructive discussions on Lodha Committee Reforms.
"Most of the units were open to the reforms suggested by the Lodha Panel. Yes, they had some issues and we will try to address them," Rai said before leaving.
Most of the units spoke about the one state one vote issue and members felt that the COA was receptive to their concerns.
Meanwhile, the IPL governing council will be meeting on Sunday to discuss media rights for the next cycle of the IPL. It is learnt that media rights cycle would be halved from 10 years to 5 years.