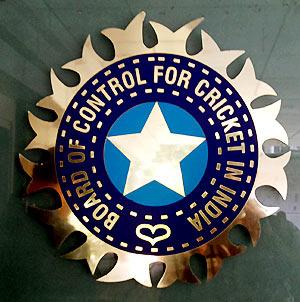 N Srinivasan was "quite happy" after the Supreme Court on Tuesday allowed him to resume his duties as president of the Board of Control for Cricket in India.
"I think the Supreme Court has said I can resume functioning and discharge my functions. So I am quite happy because BCCI needs somebody," Srinivasan told reporters after the ruling.
The apex court also set up a panel, headed by Mukul Mudgal, former Chief Justice of Punjab and Haryana high court, to probe allegations of betting and spot-fixing in the Indian Premier League.
Asked his views on the new committee, the Tamil Nadu strongman replied: "I have no comment on the new committee. Supreme Court has directly formed it. I have not been a part of it. I have nothing to do with it," he said.
Asked what will be his first task after taking over, Srinivasan replied, "I will tell about it later."
The apex court directed the probe panel to complete its inquiry within four months and told the BCCI and Srinivasan not to interfere in the probe.
The committee will look into charges against Gurunath Meiyappan and the owners of Rajasthan Royals and file a report on the erring IPL franchisees.
The Court ruled that Srinivasan can resume his duties so long as he doesn't deal with any matters relating to the IPL.
Senior advocate and additional solicitor general N Nageshwar Rao and Assam Cricket Association (ACA) member Nilay Dutta are the other two members of the newly-formed committee.
Office-bearers of the BCCI welcomed the order.
"We have always respected the observations and orders of the apex court. We had complete faith in the judiciary. The BCCI accepts the court order with utmost humility. We are happy that Mr Srinivasan will be able to perform his presidential duties," BCCI secretary Sanjay Patel said.
"Mr Srinivasan had recused himself from the day to day activities of the BCCI and not for once did the Board break any rules," Patel added.
BCCI joint-secretary and Member of Parliament Anurag Thakur also welcomed the decision.
"It's certainly a relief that Mr Srinivasan will be officially taking charge of the BCCI. He has been unanimously elected as the president of the BCCI and the members have a lot of faith in his abilities as an administrator," Thakur said.
Senior BCCI vice-president and veteran Cricket Association of Bengal official Chitrak Mitra said that Srinivasan taking charge meant that there won't be any "constitutional crisis in the board" which looked imminent during the last few days.
"We are extremely happy that Mr Srinivasan is officially back at the helm. There was a possibility of constitutional crisis arising out of a situation where he was not being able to take charge.
"The honourable Supreme Court's orders will only help BCCI set the house in order. Srinivasan is an able administrator and the functioning of the Board has been smooth under his supervision," Mitra added.