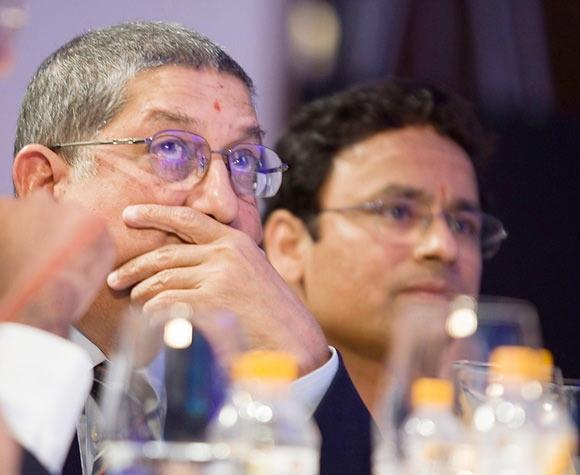 IMAGE: Narayanaswami Srinivasan during a press conference. Photographs: Ritam Banerjee/Getty Images
Narayanaswami Srinivasan's decade-long regime as a cricket administrator has come to an end. The Board of Control for Cricket decided to recall him and nominate its recently-elected President Shashank Manohar as the International Cricket Council (ICC) chairman.
The decision to remove Srinivasan was taken at the BCCI's 86th Annual General Meeting, in Mumbai, on Monday, virtually signaling the end of his hold on Indian cricket.
"Srinivasan will be BCCI's representative in the ICC," said secretary Anurag Thakur after the AGM.
Srinivasan became the first ICC chairman after the 2014 revamp of the world body, with a two-year term, but it's the prerogative of the cricket board to decide its representative.
The tenure of Srinivasan, who took over in June last year, was to end next year in the same month and the remainder of the term would be completed by Manohar as it is India's turn to hold the top position.
It is learnt that the resolution favouring replacing Srinivasan with Manohar was passed at the AGM.
In case, Manohar cannot attend the ICC meetings, Sharad Pawar will be
India's representative.
The Tamil Nadu strongman will thus lose his grip on Indian cricket for good after having already been ousted as the BCCI President owing to the 2013 IPL spot-fixing scandal in which his son-in-law Gurunath Meiyappan was held guilty of betting charges.
Although Srinivasan was not personally indicted for the damaging scandal but the Supreme Court-appointed R M Lodha committee had chided him for not acting on the elements which corrupted the IPL.
With his sacking as ICC chairman, Srinivasan now only remains the president of Tamil Nadu Cricket Association. His company India Cements had owned the IPL franchise Chennai Super Kings, which was suspended for two years after its officials were held guilty of betting.
In a scathing attack against Srinivasan, Manohar had said that the BCCI had not taken any timely action to cleanse the game and has no choice now but to comply with the Lodha Committee's recommendations.
"Srinivasan should have stepped down in 2013, no individual is ahead of institution and he too is the root of all scandals and should immediately step down from his position as chairman of ICC," he added.
He insisted that the BCCI's indifference compelled the Supreme Court-appointed Lodha Committee to take action.