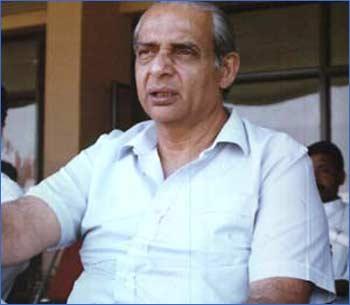 The Board of Control for Cricket in India (BCCI) on Saturday condoled the demise of its former president Raj Singh Dungarpur in Mumbai.
Expressing shock, BCCI chief Shashank Manohar said "Dungarpur's contribution to the Indian cricket for more than thirty years can never be forgotten."
"Rajbhai served Indian cricket for more than three decades as an administrator and his contribution to Indian cricket will always be remembered, particularly as the president of the Board," he said in his condolence message.
Dungarpur, who was BCCI president for three years in the late 1990s, was suffering from Alzheimer's disease.
'DUNGARPUR WAS AN INSTITUTION'
In a condolence message, ICC president David Morgan and CEO Haroon Lorgat paid tribute to the former cricket administrator, describing him as a man of extraordinary talent.
"Raj Singh Dungarpur was an extraordinary person with extraordinary talent and ability. He was an institution from which plenty of stars have graduated," the condolence message read.
A bachelor from the Dungarpur royal family of Rajasthan, he was also a former first class cricketer, a former India team manager and ex-chairman of the senior selection panel.
A former president of the Cricket Club of India for 13 years before he took ill last year, Dungarpur died at his residence this morning.
Photograph: Pradeep Mandhani