'We have not got a telephone call from any of the WICB officials or directors. That's not a good thing'
'We know that they did not want or believe that we could win this tournament. It was basically us against them'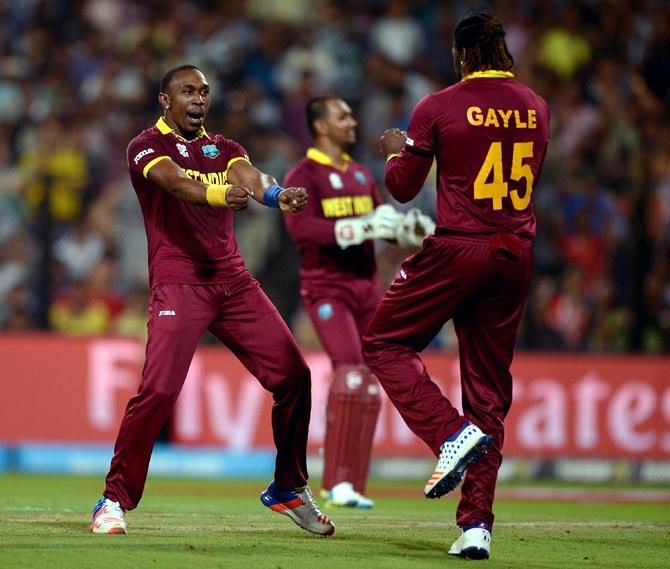 IMAGE: West Indies's Dwayne Bravo, left, and Chris Gayle celebrate. Photograph: PTI Photos. .
After skipper Darren Sammy, it was the turn of premier all-rounder Dwayne Bravo to launch a tirade on his country's cricket board stating that 'even Board of Control for Cricket in India does more' for them.
"The country's cricket is not in right hands. We have not got a telephone call from any of the WICB officials or directors. That's not a good thing. We know that they did not want or believe that we could win this tournament. It was basically us against them. Even the BCCI does more for us," Bravo told the 'Star Sports' in a post-final interview.
He also questioned as to how players like him, Chris Gayle and Andre Russell are being kept out of the West Indies ODI side.
"If we look at the calender, we don't have any more T20 matches this year. We are not picked for the ODIs. There's a series that's going to happen with South Africa but we will be playing in England (Natwest Blast) whereas we should have been playing for the West Indies. Look at the love we get over here. Even the BCCI does more for us than our board," said Bravo.
"But it's nice that the CARICOM people are coming together. Cricket is a way that unites people in the Caribbean," concluded Bravo.