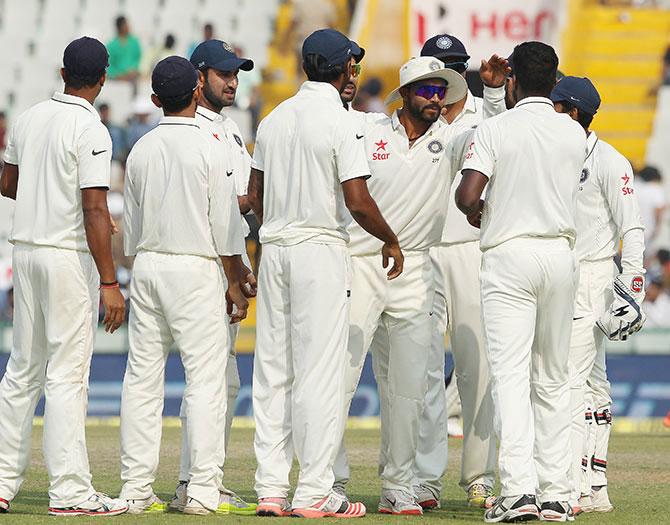 IMAGE: Indian players celebrate. Photograph: BCCI
In what comes as a surprise move by the Indian cricket board, the BCCI is mulling to apply conflict of interest rules for current cricketers, who, in effect, will not be allowed to have business interest in player-management companies which represent them.
The proposed conflict of interest clause will be tabled at the 86th AGM of the BCCI in Mumbai on Monday.
The players also have to declare the player-management firm or person representing them to the Board and cannot sign an endorsement deal with sponsor/sponsors that could be direct competition to the BCCI sponsors, including apparels.
It has also been proposed that the current lot of players should not be on board in a controlling position of a commercial organisation that has signed a contract with the Board or its affiliates.
Retired cricketers on BCCI's payroll or contracted to the Board should not be part of the Board's various committees, including the IPL Governing Council, as per another proposal on the same issue.
As per the clause, national coaches and selectors should not be associated with any private coaching academies or with player-management company or player agent, even in honorary capacity, or pen newspaper columns or be contracted with print or electronic media during their tenure.
Selectors should also not be members of any managing committee of the BCCI's affiliates.
Strict conflict of interest clause has also been proposed for administrators, in both BCCI and its affiliates.
BCCI president, Shashank Manohar who is also a practicing lawyer will use his legal expertise and try to push through all these reforms at the Board's AGM that will affect quite a few past cricketers wearing multiple hats even as they are part of its affiliated units.