Infuriated by India's humiliating 4-0 series defeat in England, the local media lashed out at the cricket board on Tuesday, accusing the governing body of pursuing riches instead of developing the Test team.
The 50-over world champions arrived in England as the top-ranked side in Test cricket but their consistent poor displays, coupled with a spate of injuries to key players, led to India's first series whitewash in 11 years.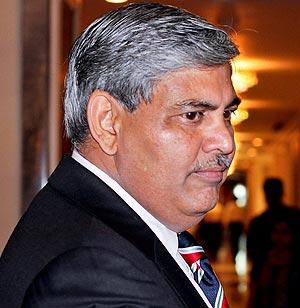 Mahendra Singh Dhoni's first series defeat as captain pushed India down to the third place in the rankings, described as "A Crying Shame" by the Times of India, which held the Board of Control for Cricket in India (BCCI) responsible for the debacle.
"BCCI stands for Board of Control for Cricket in India. It could even be referred to as Bombastic, Callous, Chaotic and Incorrigible," it blasted, a day after England secured a fourth crushing win by an innings an eight runs at the Oval.
"Post India's World Cup victory, the board had the ideal chance to show the world that it was serious about not just generating 70 percent of world cricket's income but about creating a congenial environment for the team to prosper in the longer format too.
"Instead of giving new coach Duncan Fletcher a side that was fighting fit to take on a buoyant and in-form England outfit, they made all the key players go through IPL (India's lucrative Twenty20 league) just six days after an emotionally and physically draining World Cup."
The Hindustan Times called the body a "Board of No Control", lamenting its lack of professionalism and providing graphic details of how Australia, England and South Africa run their cricket boards.
The newspaper held BCCI, "flush with cash, bereft of proper management", responsible for India's "England Bummer" as the tourists appeared helpless in their attempt to prevent the hosts from marching towards the top of the rankings.
For a change, the players were spared, many sympathising with them for being put through a punishing schedule.
India's World Cup victory was preceded by a tour of South Africa and less than a week after winning One-day cricket's biggest trophy in Mumbai, Dhoni and his men were playing in the Indian Premier League (IPL).
A tour of the West Indies soon followed and by the time they landed in England, most of the players were either jaded or injured.