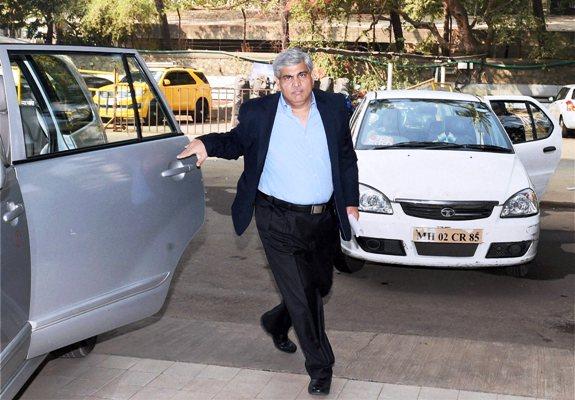 IMAGE: BCCI President Shashank Manohar arrives for a meeting. Photograph: PTI
BCCI president Shashank Manohar, who is committed to ending the monopoly of India, Australia and England in the ICC, has been asked by working committee to apprised them of the steps that are being taken regarding the financial restructuring of the global cricket body.
As per the earlier structure, BCCI along with England and Australia were pooling in 80 per cent of the revenues, being the nations that brought the money to the body. However Manohar, as ICC chairman, had made it clear that he wanted equitable distribution.
While this could lead to a revenue loss for the BCCI, it also did not go down well with the members that the matter was not brought to the table in any of the BCCI meetings before Manohar went for the ICC meeting in Dubai.
However, the working committee on Friday decided that Manohar and secretary Anurag Thakur should discuss the financial ramifications of such a move.
"The members authorised the President and Hony. Secretary to discuss the governance and financial restructuring of the ICC subject to such restructuring being incorporated in the constitution of the ICC for permanency," a BCCI release stated.
"There is no harm in being magnanimous. But the proper way is to inform the members what are the far-reaching consequences of such a move. We should know that if BCCI is compromising on revenue, how the state associations will get affected," a senior BCCI official, who is also a member of one of the influential state associations, told PTI.
It was also learnt that members also authorised the President and Hony. Secretary to rework the FTPs for the period 2016 to 2023 and ensure equitable distribution of the matches.
Chhattisgarh to play Ranji Trophy, Verma's CAB ignored for BCA
Meanwhile, the BCCI also accorded full membership status to Chhattisgarh, making it the 28th affiliated unit of the board that will take part in the Ranji Trophy.
"The Members approved the recommendation of the affiliation committee of BCCI to grant full member status to Chhattisgarh State Cricket Sangh. They will be a part of the Central Zone for all the BCCI tournaments," BCCI stated in a release.
Chhattisgarh has been an associate member for a long time now and with a state of-the art stadium in Raipur, are ready to enter the big league. The meeting was attended by Chhattisgarh Cricket Sangh (CCS) president Baldev Singh Bhatia.