BCCI adopts Lodha panel reforms barring five contentious ones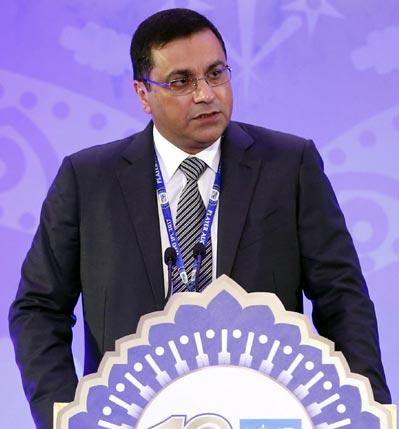 The Board of Control for Cricket in India on Wednesday adopted Lodha panel recommended reforms, barring the five contentious ones, at its Special General Meeting in New Delhi.
"The BCCI has adopted Lodha panel reforms except five," said BCCI acting secretary Amitabh Choudhary after the meeting.
Having got a shot in the arm from Supreme Court, which has agreed to hear the "practical difficulties" on August 18, BCCI did not implement the controversial reforms on age cap (70 years), cooling off (3 years) and tenure (9 years each at state and BCCI).
The five reforms cover:
1. Matters pertaining to membership, one state one vote, retention of full members, Railways, Services etc.
2. Definition of powers of appointed executives.
3. Size and constitution of apex council.
4. Restriction and disqualification of office bearers and ministers and government officials, age, tenure and cooling off period.
5. Size of national selection committee.
Choudhary only explained why the disqualification of government employees and ministers was kept among their reservations.
"If we want Railways or Services to retain full membership (voting) rights, then they can only be represented by either a government employee or a minister," he said.
On the size of proposed Apex Council, Choudhary said that "Currently, it's proposed size is five members. It has only one vice-president and members are of the opinion that it is smaller in size considering the length and breadth of country."
Choudhary said that they are still in process of sorting out Conflict of Interest clause as there are a few objections from members.
The BCCI has also shortlisted a panel of names for role of Ombudsman.
Earlier in the week, the Supreme Court barred former BCCI officials N Srinivasan and Niranjah Sham from attending any board meeting.
They both are above 70 years of age and stand disqualified to be BCCI office-bearers as per Lodha reforms.
CEO Rahul Johri not allowed to attend BCCI SGM
Adhering strictly to the Supreme Court diktat of letting in only office-bearers, the BCCI did not allow its Chief Executive Officer (CEO) Rahul Johri to attend the Special General Meeting (SGM).
Along with Johri, the representatives Odisha and Punjab were debarred from the meeting as the representatives were not office-bearers.
As per the SC order, the ones eligible are president, vice president, secretary, joint/assistant Secretary and treasurer.
It was learnt that Johri was told by Amitabh Choudhary that he along with all other BCCI employees should leave the meeting premises as SC order of July 24 states that only office-bearers should be attending the meeting.
While it is not a rule but a convention, a team of BCCI employees are always available for secretarial help during these meetings but a wary BCCI went straight by the book.
Image: BCCI CEO Rahul Johri.
Photograph: BCCI