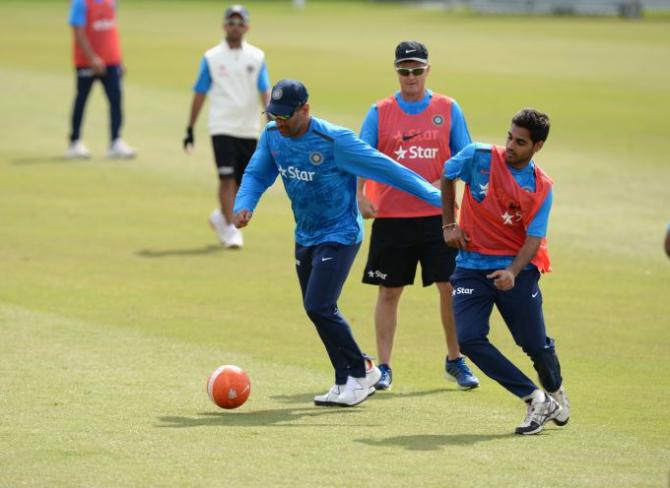 Mahendra Singh Dhoni and Bhuvneshwar Kumar during a training session. Photograph: Tony Marshall/Getty Images
Team India have to get their strategies in place if they are to get the better of in-form Bangladesh in the third and final One-Dayer on Wednesday and captain Mahendra Singh Dhoni, insists that the team is going in with the best lot of players available but they have not been able to adjust to the conditions.
This is the best lot of players we have," Dhoni had said after the six-wicket loss on Sunday.
"What we have to think about is, if we are playing in the subcontinent whether we want to go in with the extra spinner, whether we really want fast bowlers who bowl quick but are not good with line and length. At times we have seen they can really go for runs.
"If you see Bhuvi (Bhuvneshwar Kumar), he is not exceptionally quick but even when the batsmen are scoring fast he gets away with it. The only problem is, if he doesn't take
wickets the other bowlers are not smart enough to get away with the kind of bowling they do. Overall, you have to see what is the best balance and accordingly you move forward," he added.
India will have to get their line-up right and the players will have to play exceptionally when they play for pride in the final ODI on Wednesday.