India captain Mahendra Singh Dhoni praised Virat Kohli for showing "excellent temperament" during the team's tricky yet successful run-chase against New Zealand in the second cricket Test, in Bangalore, on Monday.
"Virat was superb with the bat. There are two ways to tackle the pressure. Either you fight through it or you just soak it, and I believe Virat really batted well. He showed excellent temperament," Dhoni said at the post-match presentation ceremony.
India were in a spot of bother after losing three quick wickets, but Kohli and Dhoni combined well to see the team home.
"It seemed as if we were not playing in Bangalore, but in Napier. [Ravichandran] Ashwin and [Pragyan] Ojha combined well and they were ably supported by Zaheer [Khan] and Umesh [Yadav]. There was something for the bowlers in the pitch. The New Zealanders got a bit more purchase from the wicket but our spinners were brilliant," Dhoni stated.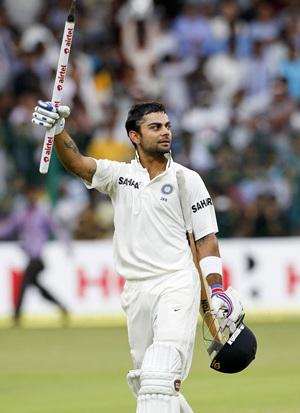 He added that the Indian bowlers did well in the last few matches.
"They hunted in pack and that has been the case since past few series," he said.
Man of the match Kohli, who is in the form of his life admitted that it was indeed a "tricky situation".
"It was a tricky situation when I went out to bat. Me and MS decided that we would target 10 runs at a time and it worked for us," the Delhi lad stated.
Asked about the areas of batting he has worked upon, Kohli replied, "I needed to be more patient and it worked. There was more turn (on offer) today and it was a great wicket."
Ashwin, who was adjudged man-of-the-series for his rich haul of 18 wickets, conceded that it was a difficult job to get wickets on this kind of strip but feels that variation in pace did the trick for him.
"This pitch was a bit more challenging. I tried to alter the pace on the third day, it was a bit more docile. I enjoy bounce, that's one of the important ingredients I require from a pitch," Ashwin said.
He was also appreciative of Ojha, who complimented him well through out the two Tests.
"I have always maintained the he is a very good bowler. We share a long association. We have been together for around 16-17 years and Ojha really, he compliments me well. I am happy that he got a five-for in the first innings," he said.
New Zealand skipper Ross Taylor hailed his team for putting up a good fight in the second Test after an innings defeat in the first Test at Hyderabad.
"We had our chances. The boys really showed great character to come back from a terrible Test in Hyderabad," Taylor said.
He added that his team was in the hunt once India lost a few quick wickets, but gave credit to Kholi and Dhoni for they way they batted.
"They lost five wickets for 50 runs in the first innings and once we got three quick wickets during the second innings we believed we were in with a chance. But the way Kohli and Dhoni batted was outstanding," he said.
Taylor also praised the Bangalore wicket and said that it had a bit for everyone.
"You can't ask for more in a Test pitch. It had a bit of bounce and also spun towards the later half of the Test," he said.
The Kiwi skipper was all praise for speedster Tim Southee, who accounted for seven Indian wickets in the first innings.
"Tim was fantastic," Taylor said, adding that they had come with some standards to maintain.
"We came with some standards to maintain, which we did in patches. We have learned a lot from this series and hopefully we can comeback a better team," Taylor said.
Photograph: Vivek Prakash/Reuters