The union minister for sports, Vijay Goel, on Monday made it clear that implementation of the Supreme Court verdict on Lodha Committee's recommended reforms will be purely BCCI's prerogative.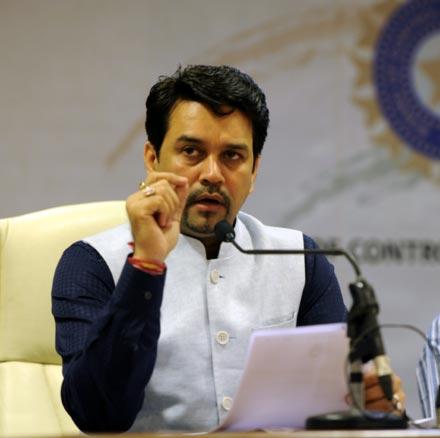 "The ball is in BCCI's court. Implementation has to be done by BCCI. BCCI needs to take note of the Supreme Court order and Lodha committee report. As far as I am concerned, all I want is transparency in sports," Goel told mediapersons at the official send-off of the Indian Olympic contingent.
- End of the road for Pawar, Srinivasan; Thakur has to quit HPCA
- How SC made BCCI fall in line with Lodha panel's recommendations
On the proposal of having BCCI under RTI ambit, Goel did not make any conclusive comment.
"I am not going into every clause of the Lodha committee. As I have said, ball is in the BCCI's court," he stated.
Image: BCCI president Anurag Thakur
Photograph: BCCI