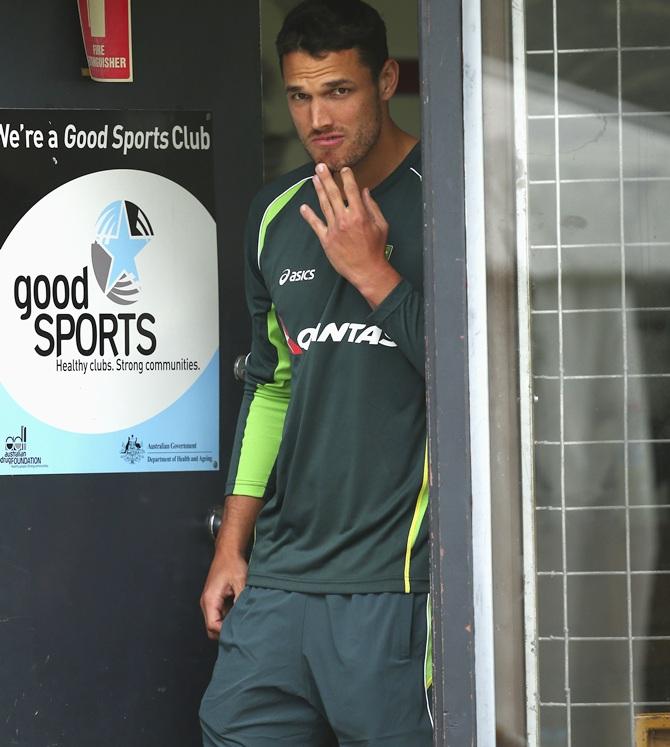 IMAGE: Nathan Coulter-Nile of Australia looks on. Photograph: Ryan Pierse/Getty Images
Australia fast bowler Nathan Coulter-Nile could miss the Ashes series against England after breaking down with another back injury.
Coulter-Nile, who had been expected to be among four quick bowlers selected in the hosts' squad for the first Test in Brisbane starting on Nov. 23, has been ruled out for an indeterminate period of time.
"Nathan experienced some pain in his back following the two-day tour match against England last week," Cricket Australia's Sports Science and Sports Medicine manager Alex Kountouris said.
"Subsequent scans have revealed an early stage aggravation of his old stress fracture.
"Whilst this is a setback, the good news is that it has been picked up early so we are only considering a short break from bowling while we monitor him.
"We expect he will have further scans over the next month which will determine when he can return to bowling."
It is a massive blow for the 30-year-old, who has played 21 one-day internationals and 19 Twenty20 internationals but has suffered a long list of injuries and is yet to make his test debut.
He would likely have been the fourth-choice quick bowler in the squad behind Mitchell Starc, Josh Hazlewood and Pat Cummins.
However with the Gabba wicket traditionally providing some assistance to pace bowlers he also could have been in the mix to make his test debut in Brisbane.
Tasmania's Jackson Bird has been withdrawn from his side's Sheffield Shield match to join Starc, Hazlewood and Cummins in Brisbane for a pre-Test training camp.