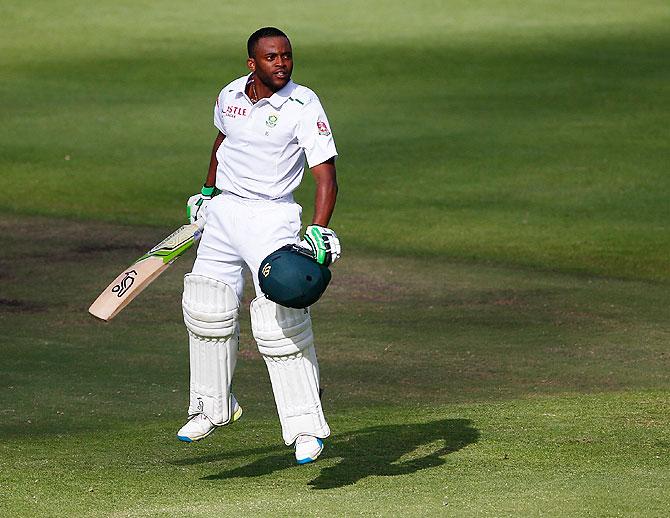 IMAGE: South Africa's Temba Bavuma celebrates scoring his maiden century during the second cricket Test match against England in Cape Town on Tuesday, January 5. He became the first black South African cricketer to hit a Test ton. Photograph: Julian Finney/Getty Images
Former South Africa skipper Bacher Ali believes that young black players cannot make it to the country's cricket if they continue to stay in the township culture.
The 73-year-old called on the black players to opt for one of the traditional cricketing schools in the country in order to reach at the highest level of the game, Sport24 reported.
Bacher, who admitted that his schooling at King Edward School (KES) had helped in laying foundation for his future, asserted that all black players who had been successful in his country went to the traditional cricket schools.
South Africa's two new black stars, fast bowler Kagiso Rabada and batsman Temba Bavuma had gone to traditional private cricket schools in the country.
Bavuma became the first South African black player to score hundred when he struck his maiden ton against England in the second Test in Cape Town last Tuesday.
Bavuma hails from Langa, one of the many black townships in the country. And, although educated eventually in an elite school in Johannesburg, he grew up in Langa and learnt his cricket at the Langa club.
The township is a short drive from the posh suburb near the Newlands ground. The gated mansions give way to low-rise shacks and small brick houses. Langa is only a square mile or so in size, filled with more than 50,000 black Xhosa-speaking residents. The main street runs through town towards the police station. There is one sports complex, including grounds for cricket, rugby union, and football, plus an artificial hockey pitch, to serve the community.
Langa is an important hub for Cricket South Africa (CSA), given its history of producing good players.
It is a designated Regional Performance Centre, which means facilities have been funded by a combination of local government, CSA and private institutions.