Former captain Mohammad Azharuddin said he is ready to coach the Indian cricket team in future if the Board of Control for Cricket in India (BCCI) approaches him with an offer.
"Whatever little cricket I have played, I have a learnt a lot and I would like to impart those skills to young players. It is up to the Board to use me in the best way. I would certainly like to be involved with Indian cricket," Azhar said in London on Monday.
- Rediff Special: The hero gone all wrong
"It is the Board's prerogative to decide on that (coaching the Indian team), but I am available in any capacity for the benefit of Indian cricket," added Azhar, who was the chief guest at an India-Pakistan students' friendly match at Lord's stadium as part of the London School of Economics annual India Week.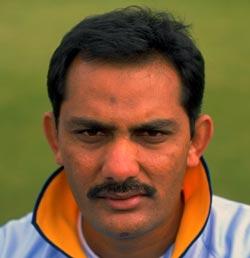 In November last year, the Andhra Pradesh High Court had lifted the life ban on Azharuddin imposed by the BCCI for his alleged involvement in match-fixing.
The 49-year-old Congress MP from Moradabad said it's high time to inject fresh blood in the side to prepare the team for the future.
"The team needs some new blood. It is important that young players are given the chance to play. The IPL format has been good for the game in that sense, as it has thrown up some very good players.
"Being able to play across all formats requires a lot of skill and there are some very talented players coming up. It is time to inject them into the team," he said.
Azhar said he heaved a sigh of relief when the High Court overturned the life ban imposed on him.
"I am just happy to be cleared. I now look forward to helping people as a cricketer and politician. I entered the field of politics to be able to do some good," he said.
Photograph: Stu Forster /Allsport/Getty Images