An under-pressure BCCI promised "corrective measures" after the Indian cricket team was humbled 0-4 by Australia in the Test series but refused to comment on the future of the struggling senior players, saying that remains in the hands of selectors.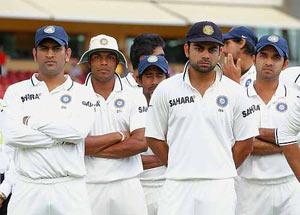 India lost the fourth Test by 298 runs in Adelaide, completing an eighth consecutive Test loss on foreign soil and second successive series whitewash abroad.
Struggling to explain the debacle, senior BCCI functionary Rajiv Shukla conceded on Saturday, "We haven't performed well, everyone accepted that...the Australians played very well and we all recognise that. We are equally concerned and certainly corrective measures will be taken."
Shukla, also the IPL chairman, pinned his hopes on the ODI tri-series, also featuring Sri Lanka, starting February 5.
He hoped that the team would script a recovery in the shorter format.
"...we hope that we will do well in the ODI series, the BCCI President has also expressed this feeling. We are quite optimistic about the ODI series. Sometimes it happens, our top batsmen were not in form. We should accept this fact," said Shukla.
Asked why the promised 'corrective measures' did not come about when a similar humiliation happened in England last year, Shukla retorted, "...corrective measures were taken.
That's why we could beat them 5-0 on our soil. We beat West Indies also but the problem is that everybody forgets about the series we win and remember the series we lose."
Skipper Mahendra Singh Dhoni and the team's senior players -- most notably the batting trio of Sachin Tendulkar, Rahul Dravid and VVS Laxman -- are under scrutiny following poor performances. But Shukla refused to say anything on their future.
"That is the selectors' domain. We can't comment on that. Whatever they decide, we would accept that. It's the job of selectors to decide about captain. Whatever anybody has said in a press conference does not mean anything to us unless it is communicated officially," he said.
On whether the Board is unhappy with the way things are going under new coach Duncan Fletcher, Shukla said, "There is no such thing. We are not disappointed."