India relied on the young brigade to finally break their prolonged winless streak by spanking Australia by eight wickets in the second Twenty20 International and level the series 1-1 at the Melbourne Cricket Ground, on Friday.
After restricting the fancied Australians to 131 in 19.4 overs, riding on some brilliant fielding and disciplined bowling, the Indians overhauled the target with two balls to spare to record their first overseas win in close to seven months.
-  Scorecard: India vs Australia, 2nd T20
The win snapped India's winless run overseas which started in England last year where they lost the four-match Test series 0-4 and the subsequent five-match ODI series 0-3 before slumping to another 0-4 whitewash in the Test series against Australia.
Opener Gautam Gambhir (56 not out) led the Indian charge and with Virender Sehwag (23) provided the best start of the Australian tour, putting on 43 runs from 6.3 overs for the first wicket.
Sehwag was brilliantly caught at short cover by Shaun Marsh off left-arm chinaman bowler Brad Hogg but not before hitting a monstrous six off left-arm spinner Xavier Doherty which went many rows deep at the long-on fence at the huge MCG stadium.
But Gambhir was determined to see India through and made a well-constructed 56 off 60 balls with four fours. India's lone centurion in the Test series, Virat Kohli (31) gave him good company as India won without a hiccup by reaching 135 for two in 19.4 overs.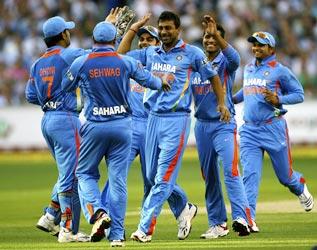 Gambhir and Kohli put on 54 runs off 43 balls for the second wicket to seal the good work done earlier by the bowlers and fielders, who executed four run-outs during the Australian innings.
Gambhir reached his half century in the 18th over off a misfield which allowed him three runs. He faced 54 balls and hit three fours to notch up his fifty.
Skipper Mahendra Singh Dhoni (21 not out) strode in at number four and made sure India went past the finish line safely in front of 62,276-strong crowd at the MCG.
Earlier, the only good thing Australia did today was to win the toss and elect to bat before the Indians began to work through their innings with Praveen Kumar striking two blows in his second over, the third of the innings.
The hosts found the going tough after electing to bat as Ravindra Jadeja effected two run-outs, while Rohit Sharma and Suresh Raina accounted for one each to underline the energy of the youth in the visitors' ranks.
All five frontline bowlers, Praveen Kumar (2 for 21), Vinay Kumar (2 for 25), Jadeja (1 for 16), Rahul Sharma (2 for 29) and Ravichandran Ashwin (1 for 23) bowled well.
Matthew Wade, hero of the first Twenty20 game, came to bat at number six, made 32 before being the third batsman to be run out for 32.
Aaron Finch (36 off 23 balls), opening in place of Wade this time, played a few strokes early on before being run out at a critical time.
India bowled and fielded with enthusiasm and it all started after Praveen picked up two wickets in his second over.
It was then the swiftness of Jadeja in the field that accounted for two wickets in quick succession.
Right-hander David Hussey was in the centre of both the run-outs, one the folly of his own misjudgement.
Unable to get off the strike, Hussey cut leg-spinner Rahul to point and called his partner Finch for a run. The ball was still not past Jadeja and importantly was on the side of his throwing left-arm. Jadeja swooped on the ball and threw in accurately to keeper Mahendra Singh Dhoni who did the rest.
A little later, it was the turn of home captain George Bailey (3) to fall to Jadeja's brilliance. Hussey it was again who steered the ball to point and this time Bailey took off from the non-striker's end.
With Hussey unwilling to respond to the call, there was no way Bailey could have made it back to the non-striker's crease.
Explosive opener David Warner (8) was the first wicket to fall when he heaved Praveen down to deep square leg where Gautam Gambhir, took a few steps back to accept a good catch.
Shaun Marsh (0), afforded a chance to help his confidence in this miserable summer, was once again a failure, steering his second ball from Praveen into the hands of lone slip Virender Sehwag.
It still was a fortuitous dismissal as Sehwag diving to his left, couldn't quite hold on to the ball but did the smart thing by flicking the ball in the air for Dhoni to complete the chance.
There was then a 33-run fifth wicket stand between David Hussey (24) and Wade which was broken once the former offered a return catch to the left-arm spinner Jadeja.
Young Mitchell Marsh (13) lifted his foot for Dhoni to effect a brilliant stumping off leg-spinner Rahul Sharma in the dying moments of the match.
Finally a misunderstanding between Wade and Brett Lee resulted in the former's run-out, beaten by a sharp throw from Rohit Sharma inside the circle.
The tail then subsided quickly, falling in a heap and fittingly capped by the final wicket again getting run out, this being the turn of Xavier Doherty (1) unable to make the second run.