Paceman Mitchell Starc helped consign West Indies to their third lowest total in One-day internationals as Australia's top order needed less than 10 overs to race to a nine-wicket victory at the WACA on Friday.
Man-of-the-match Starc captured five wickets for 20 and burly quick Clint McKay returned figures of 3-10 as the tourists were skittled for 70, having won the toss and elected to bat first on a baking hot day.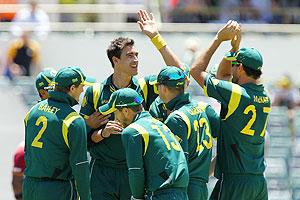 Australia's response was short and brutal with opener Glenn Maxwell blasting an unbeaten 51 and Usman Khawaja finishing on eight not out after pushing the winning single to wrap up victory in the opener of the five-match series.
"I was given a job to do and i just went out and did it," Maxwell said in a television interview after his swashbuckling knock of nine fours and two sixes.
"Was glad to get the boys across the line."
Aaron Finch was the only Australian wicket to fall, caught behind for 10 off the bowling of Jason Holder.
Starc took full advantage of some devilish bounce and movement to rout the tourists' top order with four wickets in eight balls and wrapped up the innings in less than 24 overs with his fifth.
"It's nice when things come together and you get on a bit of a roll," Starc said. "It's nice when it swings, I tried to keep it nice and smooth. There was enough in the deck, we knew if we put the ball in the right place, we'd get something out of it."
Reduced to 39-7 at the drinks break, the tourists flirted with their all-time lowest one-day total of 54 but captain Darren Sammy combined with paceman Jason Holder for a 26-run partnership to avert the humiliation.
As it was, they slumped to their lowest one-day total against Australia. "We didn't react properly to the swing and the seam," admitted Sammy.
McKay triggered the West Indies collapse in the fifth over when he removed Chris Gayle for 11, the dangerous opener nicking to the slips where Finch dived to his right to complete a sharp catch.
Kieran Powell was out for 11 three balls later when Starc had the other opener edge one straight to captain Michael Clarke at first slip.
Number three batsman Ramnaresh Sarwan was out for a duck three balls later, bowled by Starc through the gate with a vicious inswinger that smashed into middle stump.
Starc had Dwayne Bravo out for another duck, the batsman nudging a quicker delivery off his pads straight to Phillip Hughes in close.
Kieron Pollard then played onto his stumps to secure Starc his fourth wicket with a third duck, as the West Indies flailed at 19-5.
Debutant James Faulkner enjoyed his first international wicket by coaxing Devon Thomas to nick straight to Clarke in the slips for three, and took a second when Darren Bravo was caught behind by the same player for 11.
McKay ended Sammy's innings on 16, the captain scooping a simple catch in close to George Bailey, before Sunil Narine was caught behind by wicketkeeper Matt Wade for a duck.
The teams play the second match at the same venue on Sunday.
Scoreboard
West Indies innings
C Gayle c Finch b McKay 4
K Powell c Clarke b Starc 11
R Sarwan b Starc 0
D M Bravo c Clarke b Faulkner 11
D J Bravo c Hughes b Starc 0
K Pollard b Starc 0
D Thomas c Clarke b Faulkner 3
D Sammy c Bailey b McKay 16
J Holder b Starc 7
S Narine c Wade b McKay 0
K Roach not out 1
Extras: (W-8, LB-3, W-6) 17
TOTAL: (all out in 23.5 overs) 70
Fall of wickets: 1-14, 2-18, 3-19, 4-19, 5-19, 6-28, 7-39, 8-65, 9-68
Bowling: McKay 7-3-10-3, Starc 6.5-2-20-5, Faulkner 5-1-14-2, Johnson 5-0-15-0.
Australia innings:
G Maxwell not out 51
A Finch c Thomas b Holder 10
U Khawaja not out 8
Extras: (W-2) 2
Total: (for one wicket in 9.2 overs) 71
Fall of wickets: 1-39
Bowling: Roach 2-0-29-0, Holder 4.2-0-18-1, Narine 3-0-24-0.
Photograph: Will Russell/Getty Images