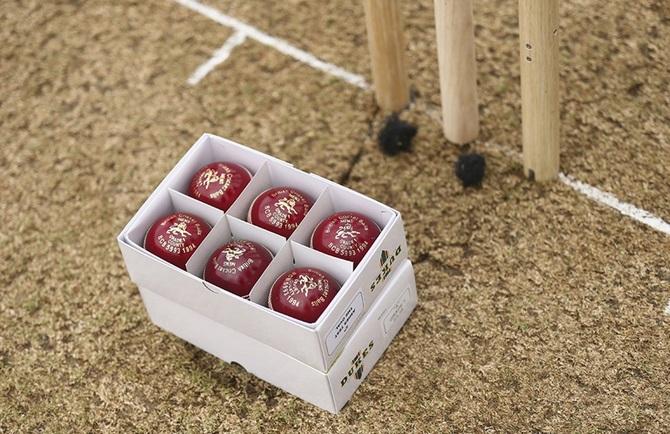 IMAGE: Representative image of the Dukes balls. Photograph: Getty Images.
Cricket Australia has confirmed it will use Dukes balls, which are used in England, instead of the locally produced Kookaburra brand for the second half of the domestic Sheffield Shield in a bid to better prepare for the away Ashes series next year.
The balls behave differently through the air and off the pitch, with Australia's inability to play the moving ball seen as one of the reasons why they have failed to win an Ashes series in England since 2001.
"Over winter we worked with Dukes to produce a ball that suited Australian conditions but also mirrored the look and feel of the English test ball," said CA's Head of Cricket Operations Sean Cary.
"We believe the English test Dukes ball will endure our conditions and will look to implement this in the second half of the Sheffield Shield. We wanted a ball that is fit for purpose.
"The purpose is to prepare our cricketers to be adaptable ... will hopefully lead to more success in both home and away series."