Australian pace bowler Mitchell Starc has been sent home from Britain after just three days because of a foul-up with his visa.
The 22-year-old left Australia last Friday to play county cricket for Yorkshire but incomplete documentation meant he was instructed to take the long trip back home on Tuesday.
"Well that's a first! Being deported from England ... Surely nothing else can go wrong can it?" he wrote on his Twitter page (https://twitter.com/#!/mstarc56).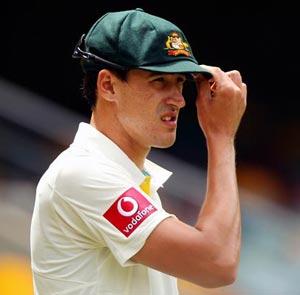 Starc blamed "incorrect communication" from Australia and promised to go straight back to Britain once it was sorted out.
The left-armer, who has taken 10 wickets in four Tests for Australia, said he was "shattered" to miss Yorkshire's match against Gloucestershire, which starts on Wednesday.
Yorkshire Cricket Club confirmed Starc's departure and said the blame lay with "incorrect advice given to him in Australia".
"The necessary paperwork from Yorkshire County Cricket Club is in order and accepted by the UK Border Agency but unfortunately is insufficient to allow Mitchell to fulfil the full visa requirement," the club said in a statement on its website (www.yorkshireccc.com).
Starc also denied media reports that Cricket Australia were to blame for the mistake.
"Just to be clear guys, not cricket aus or Yorks fault. No one to blame, was some miscommunication from Australia," Starc Tweeted, adding: "If I said I was looking forward to this flight at 10pm I'd be a massive liar!"