Australian opener Phillip Hughes believes that he has the right technique to face the Indian spin attack in trying sub-continent conditions in the upcoming four-Test series, beginning February 22.
"They're got all bases covered with their spinners, going in and away from the bat, so it's going to be challenging. I feel like my technique has come a long way in the past 12 months. Spin has been in the back of my mind, knowing that this series was coming up," Hughes said.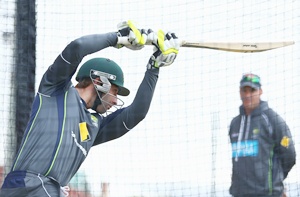 Hughes feels that the sweep-shot, used to good effect by the likes of Mathew Hayden in previous tours to tackle spin, could be a handy tool in the Indian conditions.
"I've brought that into my game in the past 12 months, the sweep shot. Playing in Sri Lanka (in September 2011) in their conditions where it did turn ... I played the sweep shot a little bit over there but it was a shot that I felt I had to improve on. I might bring it out in India, depending on conditions ... that it's there if needed," he was quoted as saying by Sydney Morning Herald.
Hughes is amongst the second batch of players along with Shane Watson, Mitchel Johnson and Xavier Doherty who will be leaving for India on Monay.
The 24-year-old left-hander said he is expecting Indians to use their strength -- the spin bowling early in conditions favourable to it.
"...I've looked at a lot of footage from the series that England were there and there were a couple of wickets that were extremely flat and guys went on and got big scores, and a couple of other wickets were very challenging, where they brought on spin very early and it turned," he said.
"I know they will probably bring spin on very quick at the start of the game."
The man from New South Wales, has been to India a number of times but haven't played a Test match there. He was part of the team's last tour but remained largely on the sidelines.
Photograph: Robert Cianflone/Getty Images