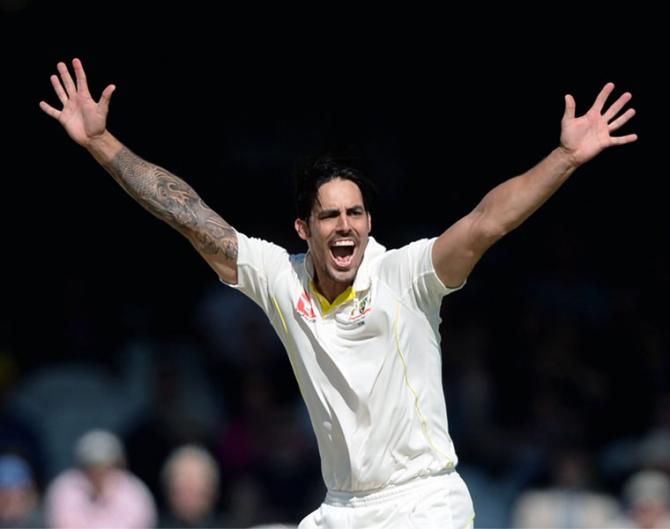 Australia quick Mitchell Johnson. Photograph: Getty Images
Pacer Mitchell Johnson, one of Australia's greatest fast bowlers, announced his retirement from international cricket on Tuesday, saying he felt this was the 'right time' to do so.
The 34-year-old left-armer, the 2009 and 2014 International Cricket Council (ICC) Player of the Year, is fourth on the all-time list of wicket takers for Australia with 311 wickets.
Johnson, who has been struggling through the two Tests against New Zealand with just five wickets at an average of 64 heading into day five of the WACA Test, will retire after the second Test concludes on Tuesday.
"I feel now is the best time to say goodbye," the 34-year-old veteran of 73 Tests said in a statement ahead of the fifth day's play at Perth's WACA Ground.
"I have been lucky enough to have had a wonderful career and enjoyed every moment of playing for my country. It's been an incredible ride. But the ride has to come to an end at some point and to do so here at the WACA is very special. I've given the decision a lot of thought. Beyond this match, I'm just not sure that I can continue competing consistently at the level required to wear the baggy green (cap)," the pacer added.
The pacer asserted that he had given his everything to the team and was proud of his achievements and he would always treasure the victory of an Ashes series and the World Cup.
"My career has certainly had its up and downs but I can honestly say I have given it my all and am proud of everything I have achieved. To win an Ashes Series and a World Cup is something I will treasure forever."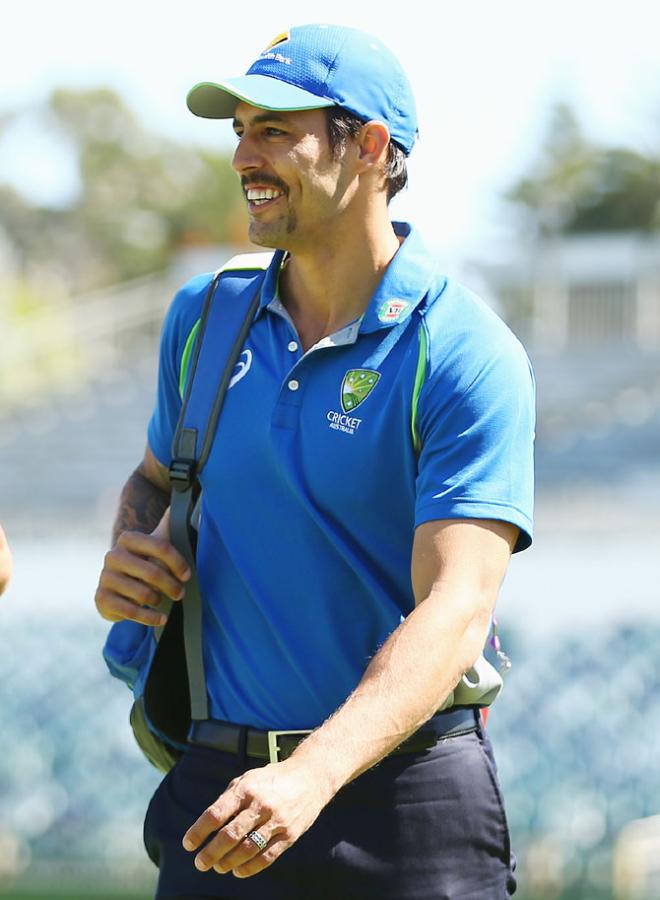 IMAGE: Australia's Mitchell Johnson arrives at the WACA before announcing his retirement on Day 5 of the second Test match against New Zealand on Tuesday. Photograph: Robert Cianflone/Getty Images
Born and raised in Queensland, Johnson ended up playing his state cricket for Western Australia and so it is appropriate he will play his 73rd and final Test match at the WACA.
"I would certainly like to thank the people of Australia, and all those around the world, who have supported me. The encouragement I have received has been extremely humbling and playing in front of them is certainly something I will miss."
The one wicket he took in New Zealand's first innings was his 311th, putting him behind only Shane Warne, Glenn McGrath and Dennis Lillee in the list of Australian test wicket-takers.
His best haul was 8-61 against South Africa, at the WACA Ground, in 2008.
At times his form was curtailed by injuries and his career had stalled until a stunning comeback in the 2013-14 summer, when he was recalled to the Australian side and tormented England with blistering pace to take 37 wickets at 13.97 as the home side completed a 5-0 clean series sweep.
Johnson also played 30 Twenty20 internationals and was a handy lower order batsman capable of clean striking, with a Test top score of 123 not out and 11 half-centuries.
He also took 239 wickets in 153 one-day internationals at the cost of 25.26 apiece and 38 in 30 Twenty20 internationals.
Johnson also said that leading into the current Test against the Kiwis, he had been contemplating retirement almost on a daily basis and had considered retiring along with his teammates including Brad Haddin and Ryan Harris, after losing the Ashes.
However, Johnson may still continue to play in the Indian Premier League and the Big Bash League.