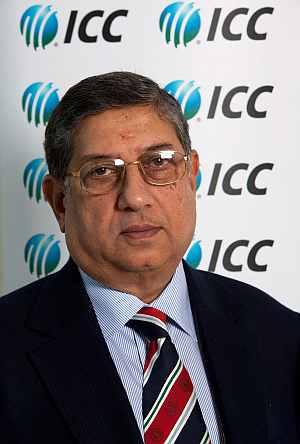 The Board of Control for Cricket in India on Friday made it clear that it is upto N Srinivasan to take a call on whether he would like to attend the working committee meeting in Kolkata.

BCCI secretary Sanjay Patel said it will be entirely Tamil Nadu strongman's call but at the same time categorically mentioned that no one will stop Srinivasan from attending or chairing the meeting on Sunday, where the date of the AGM is likely to be finalised.

"We have consulted the legal experts after today's Supreme Court hearing. What we have gathered is that no one can and no one will in fact stop him from attending the
meeting if he wishes to do so. He (Srinivasan) is well within his rights to attend the meeting but it will entirely be his call," Patel said.

"In fact, it would be very helpful if Mr Srinivasan is able to attend the WC meeting in Kolkata as a lot of documents would need his signature. The Balance sheets and various
reports that will be tabled at this meeting requires his signatures as Mr Dalmiya is not authorised to sign those documents. It is the right of the elected president," Patel
explained.

Srinivasan had stepped aside from discharging his functions as the BCCI president on June 2 after allegations of betting on Indian Premier League matches against his son-in-law and Chennai Super Kings team principal Gurunath Meiyappan.

On August 2, Srinivasan was supposed to chair a working committee meeting here but it was adjourned as there were speculations that his chairing the meeting might lead to
contempt
of court.
The Supreme Court on Friday has issued notice to BCCI, N Srinivasan, his company India Cements, which owns Chennai Super Kings, Rajasthan Royals on a plea challenging Bombay high court order refusing to appoint a fresh committee to probe IPL spot-fixing scam.
A bench headed by Justice A K Patnaik agreed to hear the appeal filed by Cricket Association of Bihar (CAB) against the Bombay high court verdict and clubbed it with the petition of BCCI which had challenged the judgement declaring as illegal the Indian cricket board's two-member probe panel set up to look into spot-fixing and betting charges in the IPL.
The cross appeal filed by the BCCI and CAB will be heard by the apex court on September 11.
Patel will be reaching Kolkata on Saturday to prepare for the meeting.
While Patel said that he is not "competent authority to decide on Mr Srinivasan's attendance" he counter questioned as to why Srinivasan can't attend the meeting.
"I can't understand why this question is repeatedly asked that whether he can attend the meeting or not. How can someone keep him out unless he is proved guilty?" Patel questioned.
The secretary informed that BCCI's anti-corruption and security unit (ACSU) chief Ravi Sawani's full report on the spot-fixing scandal will be tabled at the meeting.
"The report will be placed to the disciplinary committee to decide as to what actions need to be taken on the issue," Patel stated.