'Use the services of our (Pakistan's) batting greats like Javed Miandad, Inzamam-ul-Haq and Muhammad Yousuf'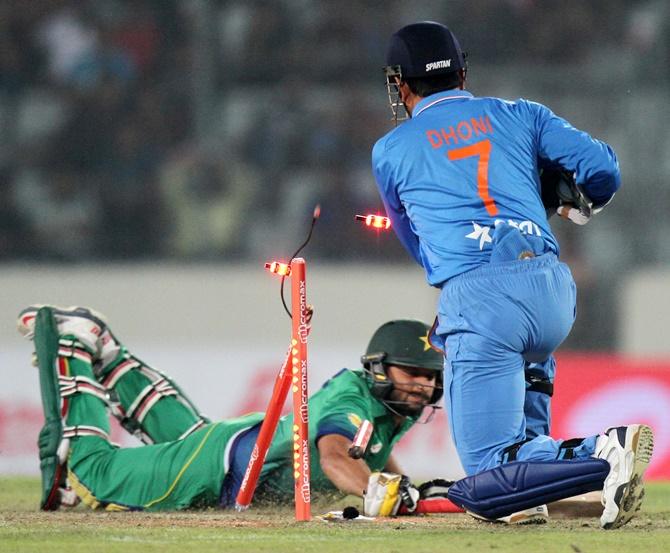 IMAGE: India's Mahendra Singh Dhoni runs out Pakistan captain Shahid Afridi during the Asia Cup match. Photograph: Solaris Images.
Former Pakistan spinner Saqlain Mushtaq says the country's cricket authorities must seek help of the game's greats to find solutions for the batting woes afflicting the national team.
"I would suggest to the Board (Pakistan Cricket Board) to use the services of our batting greats like Javed Miandad, Inzamam-ul-Haq and Muhammad Yousuf to resolve the problems we are facing in our batting department," Saqlain said, after Pakistan's ouster from the Asia Cup on Wednesday.
"We are losing matches because our batting is just not doing enough. We have quality bowlers but they also need something to bowl with. There is no consistency in our batting in limited overs cricket. And we need to look at this seriously," he added.
"I think, our own batting greats can do a lot to help the batsmen in the national team and even those coming up in domestic cricket. The PCB must ask these batting greats to use their experience to help the national team players and also work with batsmen at the domestic, junior and academy levels," Saqlain said.
Former Zimbabwea batsman Grant Flower is Pakistan's batting coach since 2014, but in ODIs and Twenty20 cricket the team's batsmen have failed to perform consistently.
Saqlain, who took 208 Test and 288 ODI wickets, believes that communication with players is key and hiring Pakistan's past players would help in that regard.
Miandad and Inzamam have had short stints with the Pakistan team players in training camps in the recent past, while the former remained head coach for two terms.
Yousuf has made it clear he will not accept any offer from the current set-up unless things change for the better.