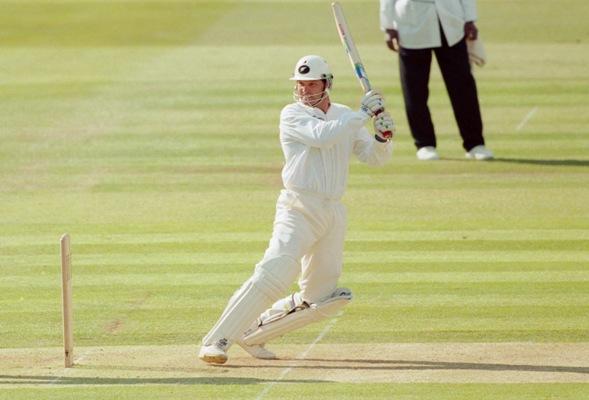 IMAGE: Martin Crowe of New Zealand hits out. Photograph: Adrian Murrell/Getty Images.
Waqar Younis, one of the greatest practitioners of reverse swing, hailed former New Zealand captain Martin Crowe, who passed away on Wednesday, as the "best batsman" when it came to tackling the difficult art.
Waqar's pace partner Wasim Akram had said the same thing about Crowe, who succumbed after a long battle with cancer aged 53.
"I think Wasim probably spoke about 1991 (actually 1990) series when Martin came over (in Pakistan) and scored a couple of centuries (108 in Lahore and 68 in Karachi).
"He became the highest run-getter from New Zealand in the three-Test series. On a green top against us, he managed so beautifully against reverse swing, which was a new phenomenon those days. He faced our deliveries coming at that pace. I thought probably he was the best batsman who negated reverse swing," Waqar said, paying a rich tribute to Crowe.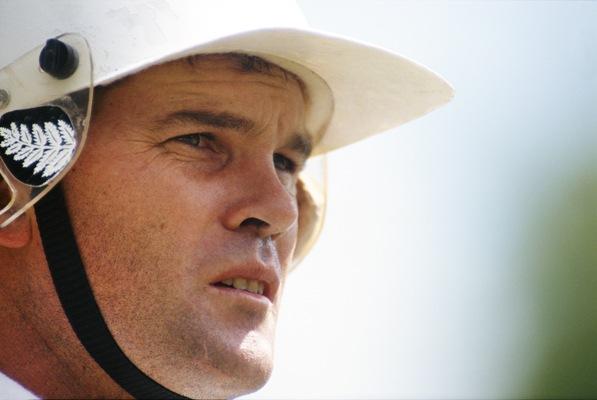 IMAGE: New Zealand batsman Martin Crowe looks on during a nets session. Photograph: Ben Radford/Allsport/Getty Images.
Waqar said that he feels the loss "more personally as Martin was a great friend".
"I am probably one fast bowler who played a lot against him. He was a complete batsman, an institution for the youngsters who could have learnt a lot by just watching him. I offer my heartfelt condolence to his family. New Zealand has lost one of their finest cricketers and I have personally lost a superb friend," a dejected Waqar said.
Waqar shared some fond memories of his association with Crowe. They were together in a commentary assignment during a series between Pakistan and New Zealand some years ago.
"That was a year before he was detected with cancer. We did commentary together and he had vast knowledge about the game and had great insights. He spoke to me about Grant Elliott at that time, with whom he had worked a bit. Martin felt that Grant had great prospect and he was right."
"I was really pained to read the news that he was in pain and agony as you don't want anyone to go through this. He was a great human being and leaves a big void in our lives."