Bangladesh Prime Minister Sheikh Hasina on Monday praised India's iconic batsman Sachin Tendulkar for his 100th hundred and described him as a "pride of the sub-continent".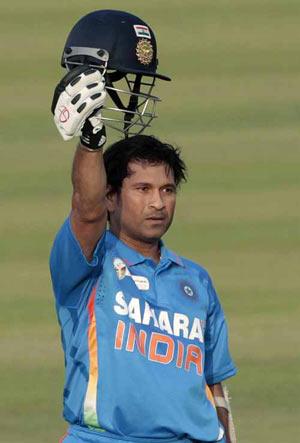 Tendulkar became the first cricketer to score 100 international centuries when he blasted 114 against Bangladesh in the ongoing Asia Cup last Friday but the hosts won the match, beating the visitors by five wickets.
-'I've scored 100 out of 100 in terms of commitment'
"We are delighted at Bangladesh's victory over World Champions India in the ongoing Asia Cup Cricket. We are also delighted at Tendulkar's hundredth century as he is a pride of the sub-continent," Hasina said during the reception hosted in honour of the batting great at her Ganobhaban residence.
A Ganobhaban spokesman said Hasina warmly received Tendulkar and congratulated him on notching up his 100th international century, while her younger sister Sheikh Rehana, son Sajib Wazed Joy and daughter Saima Wazed Putul joined her in welcoming him.
After joining the small reception of about one hour, Tendulker told reporters that it was a great honour for him as the Bangladesh premier greeted him.
"After interaction with her, I got an impression that she is a great fan of cricket"," Tendulkar said.
Responding to a question, the Indian said it was true that he was stuck for some time in the 99th century but "there is no specific reason for that".
"I never played for the target. I am a member of Indian team and it's a pride for me when India wins," said Tendulkar.
Tendulkar had scored his 99th century against South Africa on March 12 last year at Nagpur during the World Cup and this hundred was Tendulkar's 49th in One-dayers. He has 51 Test centuries.