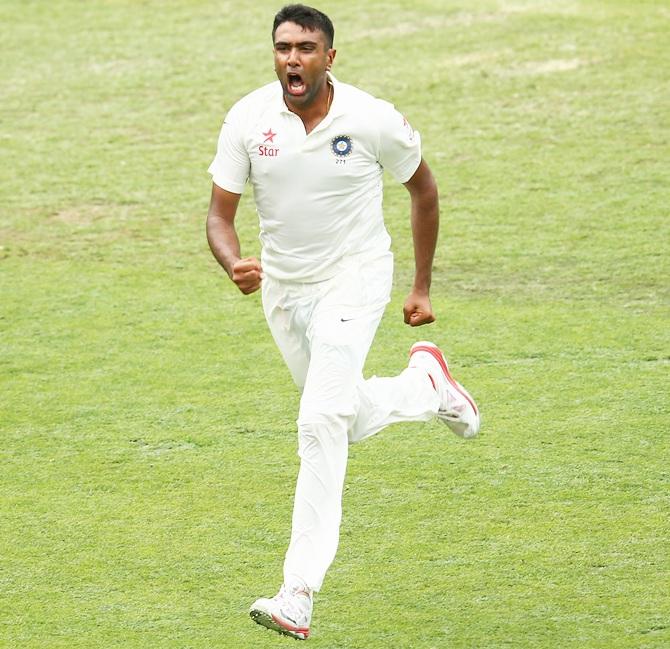 Praising Ravichandran Ashwin for becoming the No. 1 Test bowler in the ICC rankings, former spinner Venkatapathi Raju says his wicket-taking ability is amazing and he does not have to do anything different to remain a match-winner.

"He (Ashwin) has got fantastic variations and he adopts himself in three formats of the game which is difficult. I think, in between he tried something which did not click and he came back to his own bowling.
We had Anil Kumble, Harbhajan Singh and lot of spinners who were strike bowlers and now I think he is our main strike bowler. Any captain will be more than happy to have him (in the side)," Raju said.

"Bhajji (Harbhajan) did this for long time and Kumble did it for longer time and they all had good support bowlers. So, we have other good support bowlers to support him (Ashwin) very well.
"He's number one bowler now. His wicket taking ability is amazing and he's got very good variations and we should appreciate somebody who is a match winner," he told PTI in an interview.

Raju added, "I think he doesn't have to try much and just bowl the way he knows. People now realise all over the world that he can be a match winner and he's has been doing that now again and again.
"As a spinner (myself) I am happy that spinners are winning more man-of-the series nowadays which is good for us."

Off-spinner Ashwin ended 2015 as the No. 1 Test bowler in the ICC rankings issued recently on the back of his strong showing against South Africa in the recent home series.

Ashwin, who took 62 wickets in nine Tests in 2014 including 31 scalps in the four matches against South Africa, became the first India bowler since Bishan Singh Bedi in 1973 to achieve the milestone of finishing the year on top.

On left-arm spinners Ravindra Jadeja and Axar Patel, Raju noted that it is always nice to have competition.

"And when there is healthy competition it is always a headache for selectors. This year we are going to have 13 games in India. Spin is going to play a vital part and we need lot of players in good form and good rhythm.
"Some bowlers might get injured and they might be tired and I think they also deserve a break in between."

Asked if he sees both Axar and Jadeja making it into the Indian side, Raju said, "It depends on the combination. In the 90s and all, we always went with one genuine fast bowler and one all-rounder. That's why fast bowling all-rounder is very important in India.

"It is same when you go abroad, it is always the spinner all-rounder who is going to be vital and you need the all-rounders who can bowl the medium pace and can bat and then where you can accommodate three spinners."
Asked about the upcoming T20 World Cup to be played in India, Raju said one can never say who the champions are going to be, noting that there were different champions in previous editions.

"Any team which fields brilliantly and any team which takes whatever comes their way will have the advantage," he said.

Raju said there will be pressure on the Indian side to excel.

"Pressure will be on India because the spectators don't want us to lose. There will be one or two where you lose matches but again that's the same pressure and thrill of T20. Whoever fields well and whoever can sustain the pressure will have good chance.

"(For) Indian team there will be lot of pressure. They won the (50 over One-day format) World Cup in 2011 here and were the champions of the inaugural edition of T20 world cup in 2007.
"It will be nice if they do well…there will be lot of expectations from them and they can hold our nerves and as an Indian we all want our team to win," he said.

"Rather than home advantage it can be more of pressure because the game is so fast and there is no time. So you can win in last ball and every ball counts in T20 and on that particular day any team could be good.
"It is matter of a guy who hits couple of sixes or matter of a bowler who picks up couple of wickets or even matter of a fielder who can get
those run-outs it will be very interesting."