As Ashwin plays his 50th Test, Rajneesh Gupta gives us the offie's awesome numbers.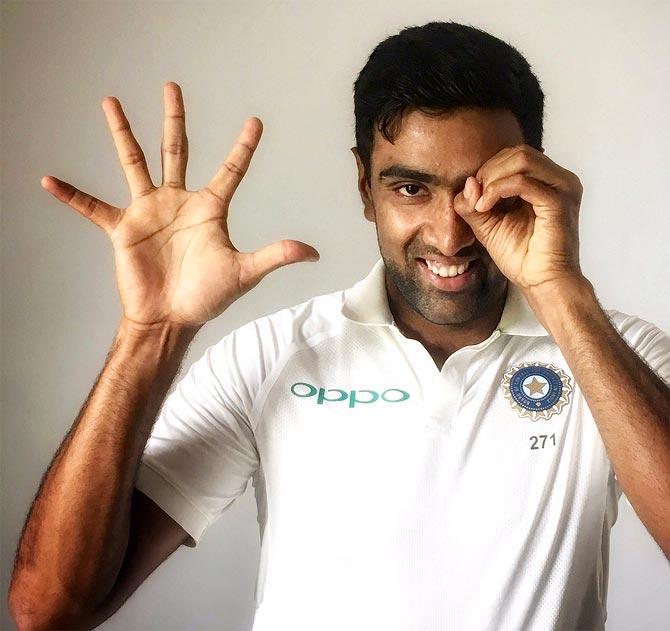 IMAGE: Ravichandran Ashwin celebrates his 50th Test match. Photograph: BCCI/Twitter
Since making his Test debut against the West Indies in November 2011, Ravichandran Ashwin has grown in stature.
His ability to consistently fox batsmen has seen him become India's leading Test bowler with 275 scalps in 49 games.
As the off-spinner plays his landmark 50th Test in Galle Rajneesh Gupta gives us Ashwin's numbers.
His 275 Test wickets in 49 Tests means Ashwin has better figures than spin legends Anil Kumble and Bhagwat Chandrasekhar at this juncture in their Test careers.
In February Ashwin went past pace great Dennis Lillee to become the fastest to 250 wickets (45 Tests).
He is also the most successful Test bowler in Tests going into his 50th Test.
When his 10 best performances in in 50 Tests or less are compared with Kumble and Harbhajan Singh -- the two other modern-day spin wizards -- his impact on the game becomes apparent.
Those 10 best bowling figures (4 of which were 7 wicket hauls) have all resulted in wins, except for the one in Galle versus Sri Lanka in 2015.
The last table shows that only Harbhajan has more seven-fors and one eight wicket haul although he has lesser Test wickets than Ashwin after 49 Tests.
Most successful Indian bowlers after 49 Tests
| | Wickets | Average | Strike Rate | 5 Wickets in an Innings | 10 Wickets in a Test |
| --- | --- | --- | --- | --- | --- |
| Ravi Ashwin | 275 | 25.23 | 52.51 | 25 | 7 |
| Bhagwat Chandrasekhar | 217 | 28.03 | 64.08 | 14 | 2 |
| Anil Kumble | 213 | 28.49 | 71.12 | 11 | 1 |
| Harbhajan Singh | 209 | 28.54 | 62.37 | 16 | 3 |
| Kapil Dev | 197 | 29.32 | 55.23 | 15 | 1 |
| Bishan Singh Bedi | 194 | 27.80 | 82.18 | 9 | 0 |
| Erapalli Prasanna | 189 | 30.38 | 75.94 | 10 | 2 |
| Javagal Srinath | 183 | 29.85 | 62.71 | 7 | 1 |
| Vinoo Mankad | 162 | 32.32 | 90.65 | 8 | 2 |
| Zaheer Khan | 157 | 33.39 | 60.31 | 5 | 0 |
Note: The great Vinoo Mankad played only 44 Tests
Most successful bowlers after 49 Tests
| | Wickets | Average | Strike Rate | 5Wickets in an Innings | 10 Wickets in a Test |
| --- | --- | --- | --- | --- | --- |
| Ravi Ashwin (Ind) | 275 | 25.23 | 52.51 | 25 | 7 |
| Dennis Lillee | 259 | 22.96 | 50.02 | 18 | 5 |
| Dale Steyn | 255 | 22.82 | 39.35 | 16 | 4 |
| Allan Donald | 248 | 21.91 | 45.88 | 16 | 2 |
| Waqar Younis | 241 | 21.83 | 40.79 | 19 | 4 |
| Muttiah Muralitharan | 235 | 26.86 | 65.24 | 17 | 2 |
| Malcolm Marshall | 233 | 21.48 | 46.42 | 14 | 2 |
| Glenn McGrath | 232 | 22.60 | 51.52 | 15 | 1 |
| Imran Khan | 232 | 22.91 | 54.10 | 16 | 4 |
| Alec Bedser | 231 | 24.21 | 66.56 | 15 | 5 |
Ashwin's best performances in Test cricket
| Figures | Versus | Season | Venue | Result |
| --- | --- | --- | --- | --- |
| 7/59 | New Zealand | 2016-17 | Indore | Won |
| 7/66 | South Africa | 2015-16 | Nagpur | Won |
| 7/83 | West Indies | 2016 | North Sound | Won |
| 7/103 | Australia | 2012-13 | Chennai | Won |
| 6/31 | New Zealand | 2012 | Hyderabad | Won |
| 6/41 | Australia | 2016-17 | Bangalore | Won |
| 6/46 | Sri Lanka | 2015 | Galle | Lost |
| 6/47 | West Indies | 2011-12 | Delhi | Won |
| 6/54 | New Zealand | 2012 | Hyderabad | Won |
| 6/55 | England | 2016-17 | Mumbai WS | Won |
Kumble's best performances in Test cricket
| Figures | Versus | Season | Venue | Result |
| --- | --- | --- | --- | --- |
| 7/59 | Sri Lanka | 1993-94 | Lucknow | Won |
| 6/53 | South Africa | 1992-93 | Johannesburg | Drawn |
| 6/64 | England | 1992-93 | Chennai | Won |
| 6/98 | Australia | 1997-98 | Bangalore | Lost |
| 5/62 | Australia | 1997-98 | Kolkata | Won |
| 5/67 | Australia | 1996-97 | Delhi | Won |
| 5/70 | Zimbabwe | 1992-93 | Delhi | Won |
| 5/81 | New Zealand | 1995-96 | Bangalore | Won |
| 5/87 | Sri Lanka | 1993-94 | Colombo SSC | Won |
| 5/104 | West Indies | 1996-97 | Port-of-Spain | Drawn |
Harbhajan's best performances in Test cricket
| Figures | Versus | Season | Venue | Result |
| --- | --- | --- | --- | --- |
| 8/84 | Australia | 2000-01 | Chennai | Won |
| 7/48 | West Indies | 2002-03 | Mumbai WS | Won |
| 7/87 | South Africa | 2004-05 | Kolkata | Won |
| 7/123 | Australia | 2000-01 | Kolkata | Won |
| 7/133 | Australia | 2000-01 | Chennai | Won |
| 6/62 | Zimbabwe | 2001-02 | Delhi | Won |
| 6/73 | Australia | 2000-01 | Kolkata | Won |
| 6/78 | Australia | 2004-05 | Bangalore | Lost |
| 6/152 | Pakistan | 2004-05 | Bangalore | Lost |
| 5/29 | Australia | 2004-05 | Mumbai WS | Won |