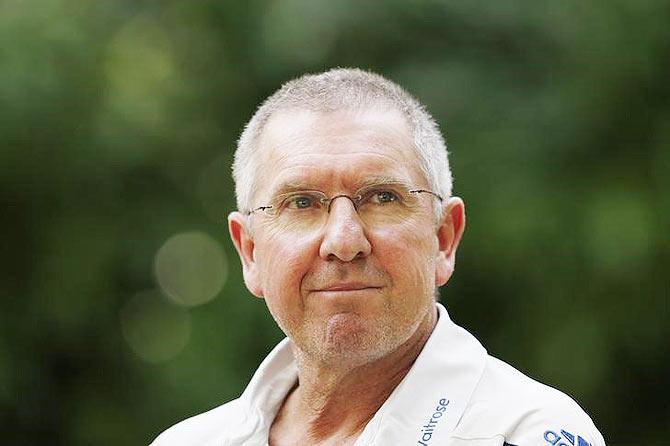 England coach Trevor Bayliss speaks to the media. Photograph: Andrew Boyers/Action Images via Reuters
A callow England team with a new coach take on a bullish and streetwise Australia in an intriguing Ashes series which should provide plenty of drama and aggressive cricket.
Michael Clarke's touring side will attempt to win the urn on English soil for the first time in 14 years and Alastair Cook's hosts will try to win back the trophy following their crushing 5-0 defeat in the last series Down Under.
- Ashes history: All you need to know
- Wanted! A serene, sharp and streetwise captain Cook
Two years ago Australia went into the Ashes with a new coach in Darren Lehmann and lost 3-0, but it was a victory margin which flattered England.
This time around the hosts will be led by Australian coach Trevor Bayliss who will aim to build on the feelgood factor generated by England's impressive resurgence in the recent one-day series against New Zealand.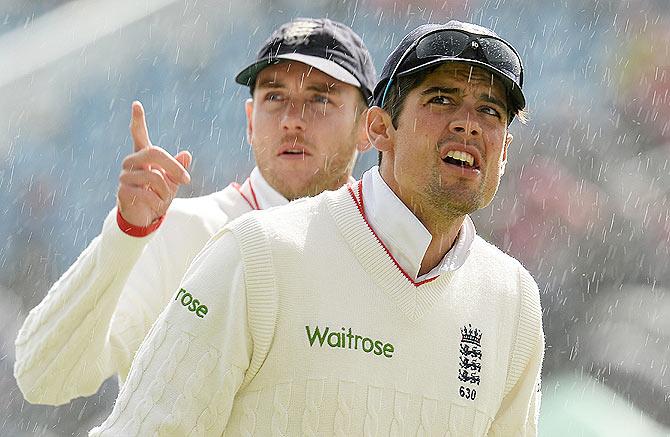 England's Alastair Cook (right) and Stuart Broad leave the field. Photograph: Philip Brown/Action Images via Reuters
Australia all-rounder Shane Watson believes having the 52-year-old Bayliss at the helm will give England an advantage.
"He knows a lot of us very well," Watson said.
"He'll have these ideas about how he can try to expose our team. The edge will be the inside information he will have. But we know that if we are at our best we will be very hard to beat."
England stagnated under former coach Peter Moores, drawing a Test series in West Indies this year before being held by New Zealand on home soil under Paul Farbrace.
- 'Pup' still has hunger for Ashes success
After two barren years Alastair Cook has rediscovered his batting form but doubts remain about whether he has the captaincy acumen to outwit the Australians.
"I'm not sure how much flair he has," said former England captain Mike Brearley who masterminded three Ashes victories.
"It will be difficult for him if things don't go well to start with -- and if he doesn't feel he's got the same spirit that the team have had in the one-day matches recently, and if he doesn't quite feel in charge.
"Alastair Cook is not a big extrovert. He's not somebody who is going to change things in dramatic ways."
Australia bowlers (from left) Nathan Lyon, Mitchell Johnson, Josh Hazlewood and Mitchell Starc walk off the field. Photograph: Ryan Pierse/Getty Images
Brearley thinks Australia have a significant advantage in their bowling attack spearheaded by Mitchell Johnson, Mitchell Starc and Josh Hazlewood.
- Australia coach Lehmann is having a 'good headache'
Ryan Harris, who announced his retirement from cricket on Saturday, was also part of the Ashes squad.
CA announced that Pat Cummins would replace Harris in the touring party.
"Australia are a very tough team," Brearley said.
"On paper, they're a better team than us. They've certainly got better bowling than we have.
"But we're playing at our home grounds, which makes a difference. If we can get that spirit going, and people play to their best, then we've got a chance."
England were lifted in the New Zealand series by positive and match-changing innings from their middle-order batsmen.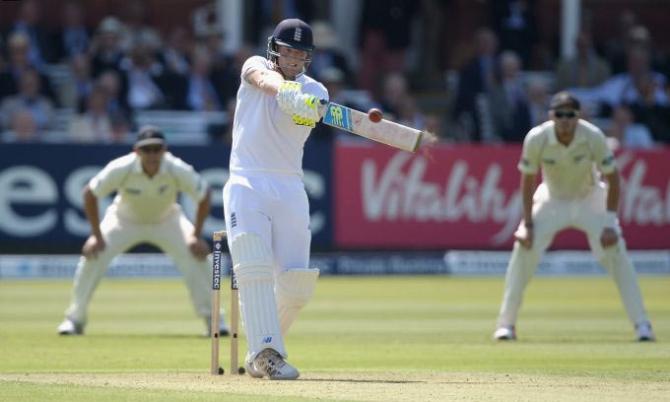 England's Ben Stokes pulls the ball for six runs. Photograph: Gareth Copley/Getty Images
"One of the exciting things is the flair in the young players from number five to number eight -- Joe Root is a terrific player, Ben Stokes, Jos Buttler and Moeen Ali," Brearley said.
Cook will need major contributions from his experienced opening bowlers James Anderson and Stuart Broad and will be desperate for Gary Ballance and Ian Bell to rediscover their form at numbers three and four.
England could be tempted to play leg-spinner Adil Rashid in the first Test in Cardiff starting on Wednesday but it would be a gamble given the prolific form of the Australians.
Steve Smith is the top-ranked batsman in the world after a phenomenal run while David Warner, Chris Rogers, Clarke and Watson are proven run-scorers in English conditions.
The first Test usually proves to be pivotal.
Two years ago England won a thrilling and fluctuating game in Nottingham by 14 runs and in 2009 the hosts' last-wicket pair Anderson and Monty Panesar survived for 37 minutes in Cardiff to secure the draw which set up a 2-1 series win.