The Geelong schoolboy who shot to fame after advising struggling Michael Clarke on his batting technique is spot on in his judgement, says former Test cricketer Dean Jones.
Daniel Brew gate-crashed a pre-match press conference at Hobart on Thursday and was courageous enough to ask the Clarke what he needs to do to rectify the follies in his technique.
Clarke who seemed to be "shocked" at the 17-year-old's gesture, said, "What do you think I should do?"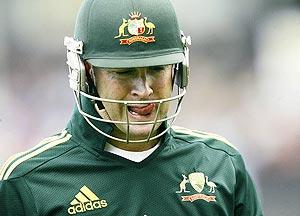 "I said, 'You should be playing the ball under your nose and at eye level.'
He said he would work on it in the nets," the teenager, who plays for Grovedale fourths in a Geelong competition, told Sydney Morning Herald on Friday.
And Jones seconded the teenager's view, saying, "He's right. He's got some fair points."
"I think (Daniel) is just being honest with how to play. Sometimes the truth is the hardest pill to swallow," added the former Australian batsman.
Clarke, however, seems to have neglected the youngsters advise as he managed only 10 runs before cutting a Tim Bresnan delivery straight into the hands of Ian Bell at point during the second ODI against England at Bellerive Oval on Friday.
Scorecard: 2nd ODI - England vs Australia
Daniel, who was in Hobart with his father for Friday's match, said Clarke broke his pledge to work on his advice "in the nets".
Asked about Clarke's continued run of misery, Jones said the right-hander had "diver's boots on -- in other words, his feet aren't moving anywhere."
"If your head moves to the ball, then your feet will follow ... Your feet don't go first, your head does," he said.
Emphasising on the fact that Clarke should look to play with an uncluttered mind Jones said the middle-order batsman "to get all the rubbish between the ears out and play each ball on its merits".
"That's all the kid's talking about when you look at it," he said.
"It's MCC coaching-manual stuff. The game hasn't changed in 150 years. I don't know if Michael's not trusting Justin (Langer, Australia's batting coach), but he needs to go back to his old coach Neil D'Costa and work on the simple parts of the game," Jones added.
Clarke has off late been speaking to Michael Slater and Ian Healy to turn around a disastrous run of form.