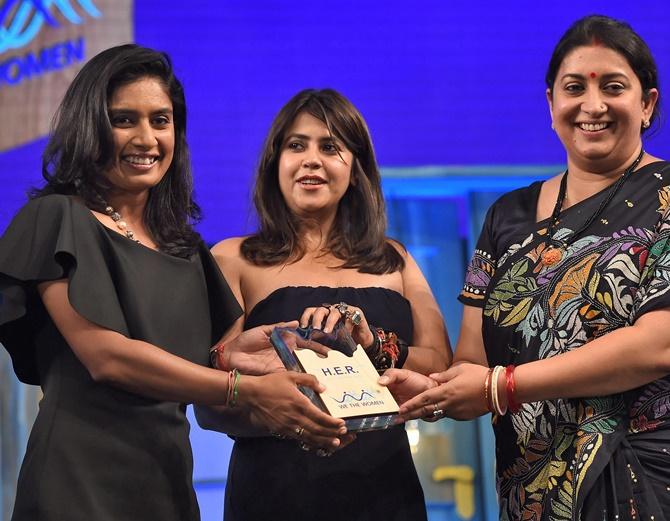 IMAGE: Indian women cricket team captain, Mithali Raj being felicitated by Smriti Irani, Minister of Information and Broadcasting and Television producer Ekta Kapoor at We The Woman summit in Mumbai on Saturday. Photograph: Mitesh Bhuvad/PTI
The Indian women's cricket team captain Mithali Raj today recalled her journey to the top and revealed that as an Indian player she had travelled unreserved in a train.
"There were a lot of struggles in my journey. Now we are under the BCCI, but that time (when women cricketers were not under the board), the normal basic facility which a sports person gets to play even (we did not get). As an India cricketer, I have travelled unreserved from Hyderabad to Delhi by train, as an India player," Mithali remembered at a session of 'We The Women' initiative which was moderated by scribe Barkha Dutt. To which Dutt quipped, "That would never happen to a man".
"That's what Rahul Dravid said. He said he has never travelled in train as an India player, but I did. But those difficulties make us strong. As women we face so many challenges at an early stage, that when we mature and take up the challenges, we become so strong mentally, that we can do so many things, that we ourselves don't believe that we are capable of," 35-year-old Jodhpur born Mithali added.
Mithali also recalled that her grandparents were not comfortable when she took up sports.
Asked if people opposed her, she said "Very much, because I am from South India, my grandparents were not comfortable that I was playing a sport (cricket). My parents had to bear a lot, but they have cocooned my life in a such a way, that I did not have to deal with the negativity."
On the occasion, Mithali presented a 'HER' award to Iqra Rasool, a budding cricketer from Jammu and Kashmir, who wants to become a pace bowler and is now training in Bengal.
Mithali had led the Indian team to the final of the ICC Women's World Cup held earlier this year. In the final, the team lost to England in a nail biting contest.
Earlier in the day, Olympic medallist wrestler Sakshi Malik also graced 'We The Women', a programme where diverse viewpoints, challenges and celebration of all that women have achieved were discussed.