- 'They were probably just making sure they got to a milestone.'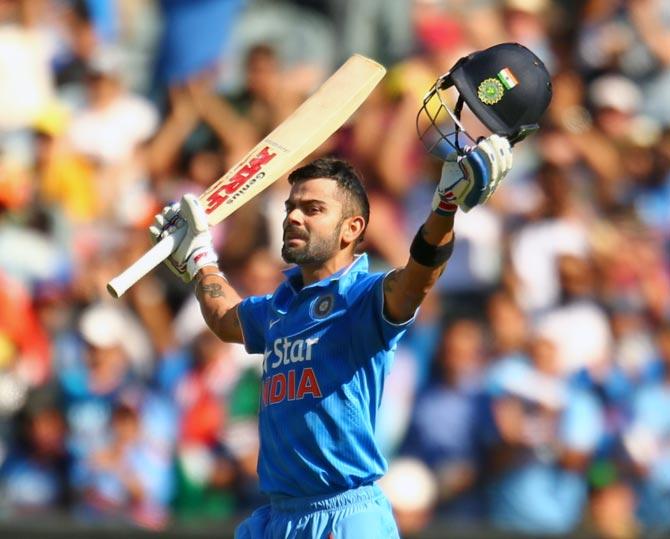 IMAGE: Virat Kohli celebrates after completing his century during the third ODI in Melbourne. Photograph: Scott Barbour/Getty Images
Australia batsman Glenn Maxwell claimed Indian batsmen, including Virat Kohli, who has scored two centuries in the series so far, are 'milestone-driven'.
He said that Kohli slowed down as he approached a century in the fourth One-Day International, in Canberra on Wednesday, and, as a result, India's momentum was affected and they eventually ended up losing the match by 25 runs.
"I was sent a photo the other day, it said Virat was 84 off 63, and then 100 off 89 or something like that. He got his last 11 runs off 22 balls to get his hundred," he said.
"I thought about that and I was like, 'Jeez he did it so easily all the way up until then, and then you just lose a bit of momentum'. I have been thinking about that. Then you look on the other hand, when you watch David Warner get into the 90s and he tries to hit Ishant Sharma for a slog-sweep for six. It's just, to me, that's two complete different ends of the spectrum. And then you look at the scoreline and you see 4-0. And to me, I'd much rather be 4-0 basically," Maxwell added.
- Should Virat Kohli lead India in all three formats?

India suffered a sensational meltdown, collapsing from 227 for one to 323 all out, losing their last nine wickets for 46 runs to lose by 25 runs. Interestingly, India are trailing 0-4 in the five-match series, despite an Indian batsman hitting a century in every match, infact, Kohli and Dhawan both hit a century in the fourth ODI but still could not take their team to victory.
"They were probably just making sure they got to a milestone," Maxwell had said after the third ODI.
"Some people are milestone driven, some people aren't."
However, his team mates Steve Smith and Aaron Finch begged to differ with Maxwell's comments.
"The talk of Indian players being selfish was obviously Glenn's view; that's not my personal view," Finch said.
Smith, meanwhile, said it was only natural for a batsman to slow down when he is approaching a milestone.
"I think that can be natural for anyone around the world. When you see that sort of milestone coming, in the back of your mind you might slow down a little bit. I think Virat Kohli and Rohit Sharma are quality players and they're batting beautifully and I don't see any problem with any selfishness there," said Smith.
Do you think Indian batsmen are milestone-driven? Vote below!