For a leg-spinner coming from the land of Bhagwat Chandrasekhar and pilloried in initial years for not being able to turn his leg-breaks or possessing a googly, Anil Kumble ended his 18-year career with 619 Test and 337 ODI wickets.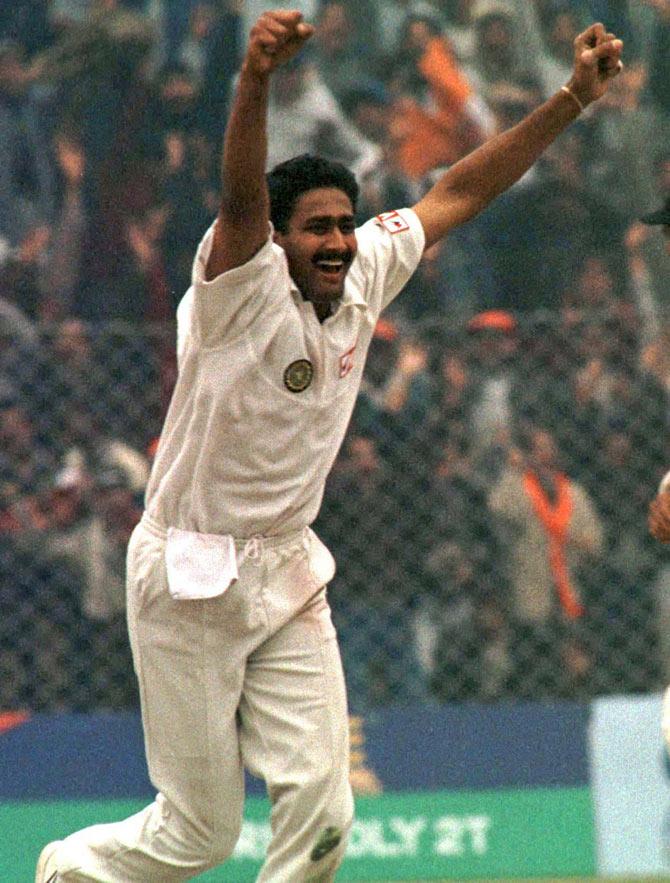 IMAGE: Anil Kumble celebrates after taking all 10 Pakistan wickets in the second innings to equal Jim Laker's world record for most wickets in an innings at the Ferozshah Kotla, New Delhi, February 1999. Photograph: Reuters
Astute knowledge of the game, dogged determination and commitment to excellence were some of the hallmarks of Anil Kumble's playing days, qualities he will now expect from Virat Kohli and his boys as he takes over as the chief coach of the Indian cricket team.

When a 19-year-old Kumble made his his Test debut back in 1990 at the Old Trafford in Manchester, his performance largely went unnoticed as there was a 17-year-old teenager who scored the first of his 100 international hundreds.

As Indians started worshipping Sachin Tendulkar's on-field heroics over the next two decades, the cricket aficionados had one thing for the bespectacled 6 feet 3 inch mechanical engineer from Bengaluru -- Respect with capital R.

Not everyday, a losing captain gets a clap from his country's media. But in 2008, Kumble's iconic statement: 'Only one team played in the spirit of the game' at the post-match press-conference in the aftermath of the infamous 'Monkeygate' Test at Sydney was one such time when a captain acted as an elder statesman. He grew in stature even more from that very day.
IMAGE: Kumble bowls during a Test against South Africa in Chennai, March 2008. Photograph: Duif du Toit/Gallo Images/Getty Images
Call it strange, but Kumble is a bit different from the three-member Cricket Advisory Committee that recommended his name.

Neither was he a child prodigy like Tendulkar nor was he immensely gifted as his contemporaries Sourav Ganguly and V V S Laxman, but when it came to the 4 D's: Dedication, Discipline, Determination and Devotion -- he had each of the traits in abundance.

For a leg-spinner coming from the land of Bhagwat Chandrasekhar and pilloried in initial years for not being able to turn his leg-breaks or possessing a googly, he ended his 18-year career with a massive haul of 619 Test and 337 ODI wickets.

And if those stats are just behind Muttiah Muralitharan (800 wickets) and Shane Warne (709 wickets), who were magicians in their own right, it was certainly a brilliant achievement.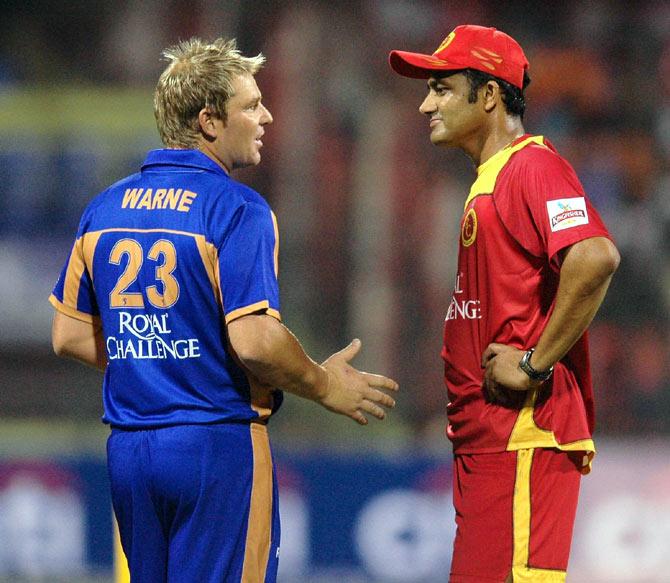 SPIN KINGS: Kumble, right, with Shane Warne during an IPL game. Photograph: BCCI
The greatest moment in Test cricket for Kumble obviously will remain his Perfect 10 -- 10/74 -- against Pakistan at the Ferozshah Kotla in New Delhi. It was a match where his consistency and perseverance paid off.

Similarly, when it came to grit, everyone remembers the sight of Kumble bowling in the West Indies with a broken jaw and also ending up with Brian Lara's wicket. That was commitment of the highest order.

India's two most successful captains: Mohammed Azharuddin and Sourav Ganguly were ever grateful to this humble, soft-spoken man, who did not need tailor-made, treacherous turners to win games.

A bit of turn from the third day, firm even bouncy pitches in the sub-continent and Kumble was a handful with his impeccable length as he could pitch it on the same spot ball after ball.

Be it Sanath Jayasuriya or Saeed Anwar on the rampage -- bring in Anil Kumble would always be the answer. Or even when Brian Lara or Nasser Hussain would get on top of the bowlers -- the man from the Garden City was both Azharuddin and Ganguly's key weapon.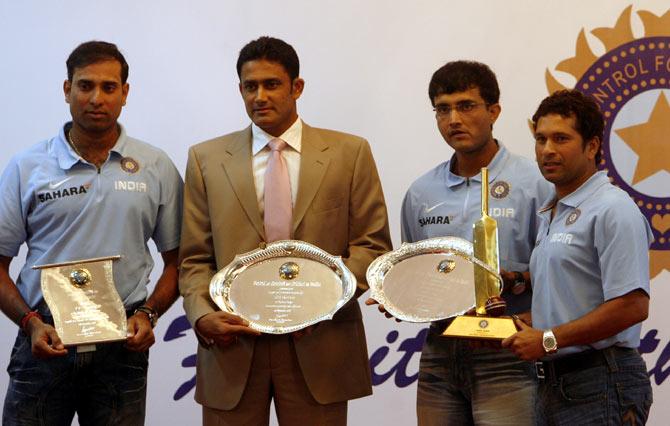 IMAGE: V V S Laxman, Kumble, Sourav Ganguly and Sachin Tendulkar during a felicitation ceremony in Nagpur, 2008. Photograph: PTI
Only time will tell how good a coach Kumble will prove to be, but one thing is for sure -- the approach will be meticulous. He will be methodical with his planning, the homework will be in place. There will not be any half-measures nor will any stone be kept unturned in the preparation phase.

The execution will depend on the new bunch under Kohli's stewardship. Men like Ajinkya Rahane, Cheteshwar Pujara, Rohit Sharma, Ravichandran Ashwin are expected to gel well with Kumble, whose achievements as an international player cannot be questioned.

The one-year tenure will start with the four-Test series against the West Indies next month and it's no secret that the Indians, who are a top team in limited overs cricket, are not exactly a great team in the five-day format.

The West Indies tour will be followed by a long home season featuring as many as 13 Tests at home, which certainly is an advantage for any coach to get into the groove.

One shall get ready for an eventful one year in Indian cricket.