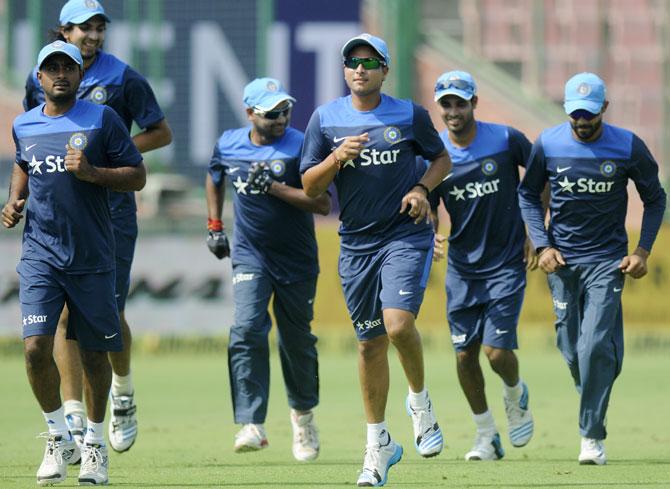 The Indian team during a practice session. Photograph: BCCI
Sri Lanka captain Angelo Mathews has warned that his team cannot lower their guard against the Indians despite captain Mahendra Singh Dhoni being
rested for the first three ODIs.
"Dhoni is a great strength to the Indian team and if he is rested we have a very good chance but we still cannot be complacent because we all know that India is a difficult place to play cricket," said Mathews.
"We had bad experiences in the past. We will try and play positive and good cricket to win against them."
Sri Lanka has not beaten India in India in a bilateral ODI series. Their best performance has been a draw in a three-match series, 1-1 in 1997.
'The preparation for the series is not that great'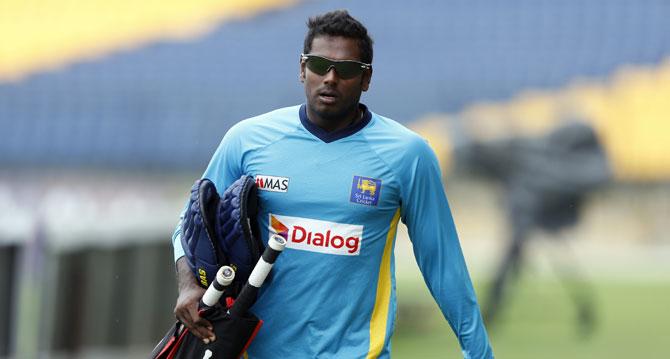 Sri Lanka's captain Angelo Mathews arrives at a practice session. Photograph: Dinuka Liyanawatte/Reuters
Mathews said that his team did not have an ideal preparation for the upcoming tour of India as they were concentrating on fitness and not skills during break from international cricket.
After their series against Pakistan in August, the Lankan players were having a long break and had just started fitness training sessions ahead of their home series against England, scheduled to be played late next month. But they were told by their Board to get ready for the five-ODI series tour of
India, beginning November 2.
Mathews said that there has been sufficient preparation for the November 2-16 ODI series against India which was hurriedly arranged after the West Indies team decided to abandon their tour midway over players' pay dispute with their Board (WICB).
"The preparation for the series is not that great, we only had a few practice sessions especially with the weather interrupting. It is not the ideal preparation for an Indian tour but we will do our best to prepare ourselves and take it as it comes," he said.
'Sanga is struggling a little bit with his back'
Sri Lanka's Kumar Sangakkara attends a practice session. Photograph: Dinuka Liyanawatte/Reuters
We were preparing for the England series because we knew that there were not any tours coming before that. We were focussed a lot on fitness and we just started batting three days ago.
"We only had a few skill-training sessions. We needed to reach our peak levels during England series but now that
we've been thrown into a challenge, we will try our best to be prepared as much as we can," Mathew was quoted as saying by The Nation newspaper.
Mathews said that Kumar Sangakkara was struggling with a back injury and there was a possibility of Niroshan Dickwella keeping wickets.
"Sanga will keep wickets and if Dickwella plays he will play as a batsman. Sanga is struggling a little bit with his back as well that's why we need to carry a reserve wicket keeper," said the 27-year-old all-rounder who has scored 3013 runs at an average of 38.13 and taken 80 wickets in 133 ODIs.
'We'll try and get our World Cup combinations right'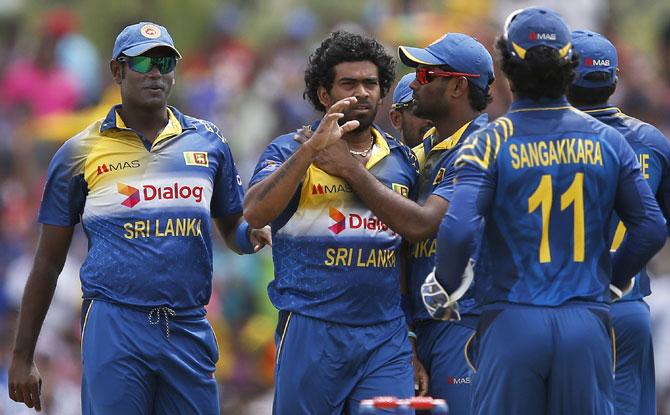 Sri Lanka's Lasith Malinga celebrates with captain Angelo Mathews (left), Seekkuge Prasanna and Kumar Sangakkara after taking a wicket. Photograph: Dinuka Liyanawatte/Reuters
He, however, said that India series could be beneficial for next year's World Cup in Australia and New Zealand.
"We will try to use (India) series to keep our momentum going as well as try and get our World Cup combinations right that will be our main focal point. Our World Cup preparations started from Pakistan series.
"I need to make sure I get the team right before the series in New Zealand. I will give opportunities to the players whom I need to look and try and look at other options also," he said.
"The confidence level of the team is also pretty crucial as we move into the last few months of the World Cup but then again we need to look at our options and get the combinations right as well."
'We have a few more days to plan it out'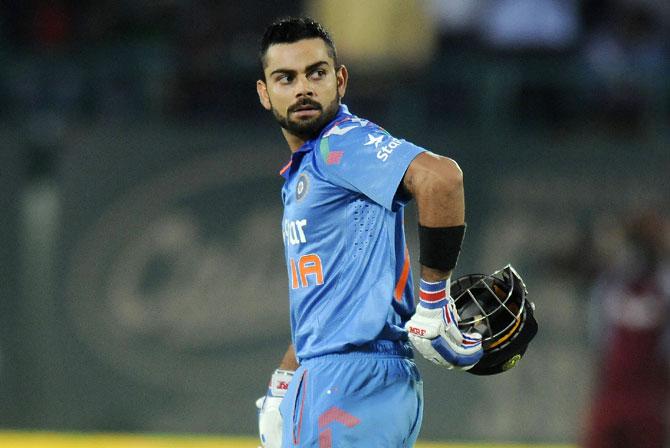 India's stand-in captain Virat Kohli. Photograph: BCCI
In Dhoni's absence, the Indian captaincy has been handed to Virat Kohli, who has been a thorn in the Lankan flesh in the recent past. Kohli has relished the Lankan bowling so much that he enjoys a batting average of 52.65 and a strike rate of 85.16 in ODI contests against them.
Mathews stated that the team was well aware of the impact Kohli can make on his team and that they were making a few plans ahead of the series.
"The spinners are having a chat with Piyal Wijetunge (spin bowling coach) and the fast bowlers are having chats with Chaminda Vaas (fast bowling coach) to try and make up plans. We have a few more days to plan it out and make plans for each and every batter," said Mathews.
The Sri Lankan team leave for India on Tuesday and commence the tour with a one-day practice game against India A in Mumbai on October 30 before beginning the five-match ODI series in November 2 at Cuttack.