With Australian cricket still reeling from the wrecking ball that was the Cape Town ball-tampering scandal, India appear to have been handed a golden opportunity to secure a first Test series triumph Down Under.
Factbox on the four-Test series between Australia and India, which begins on Thursday (times in brackets GMT):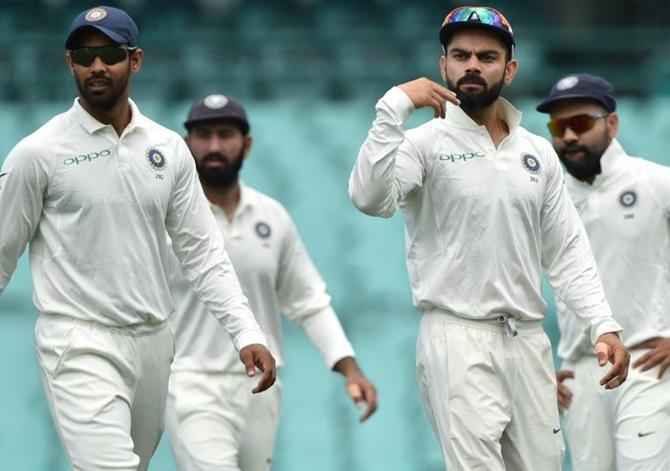 SCHEDULE
First Test:
Dec. 6-10 10:30 a.m. (0000) - Adelaide Oval
Second Test:
Dec. 14-18 10:20 a.m. (0220) - Perth Stadium
Third Test:
Dec. 26-30 10:30 a.m. (2330) - Melbourne Cricket Ground
Fourth Test:
Jan. 3-7 10:30 a.m. (2330) - Sydney Cricket Ground
AUSTRALIA
World ranking: Fifth
Captain: Tim Paine
Coach: Justin Langer
Top ranked batsman: Usman Khawaja (11)
Top ranked bowler: Pat Cummins (7)
Recent form (Opponent/Venue/Result):
October
Pakistan Dubai Draw
Pakistan Abu Dhabi Lost by 373 runs
March/April
South Africa Durban Won by 118 runs
South Africa Port Elizabeth Lost by six wickets
South Africa Cape Town Lost by 322 runs
South Africa Johannesburg Lost by 492 runs
Squad: Aaron Finch, Marcus Harris, Usman Khawaja, Shaun Marsh, Peter Handscomb, Travis Head, Mitchell Marsh, Tim Paine (captain), Pat Cummins, Mitchell Starc, Josh Hazlewood, Nathan Lyon, Chris Tremain, Peter Siddle.
INDIA
World ranking: First
Captain: Virat Kohli
Coach: Ravi Shastri
Top ranked batsman: Virat Kohli (1)
Top ranked bowler: Ravindra Jadeja (5)
Recent form (Opponent/Venue/Result):
October
West Indies Rajkot Won by an innings and 272 runs
West Indies Hyderabad Won by 10 wickets
August/September
England Birmingham Lost by 31 runs
England Lord's Lost by innings and 159 runs
England Nottingham Won by 203 runs
England Southampton Lost by 60 runs
England The Oval Lost by 118 runs
June
Afghanistan Bengaluru Won by an innings and 262 runs
Squad: Virat Kohli (captain), Murali Vijay, Lokesh Rahul, Prithvi Shaw, Cheteshwar Pujara, Ajinkya Rahane (vice-captain), Hanuma Vihari, Rohit Sharma, Rishabh Pant, Parthiv Patel, Ravichandran Ashwin, Ravindra Jadeja, Kuldeep Yadav, Mohammed Shami, Ishant Sharma, Umesh Yadav, Jasprit Bumrah, Bhuvneshwar Kumar.
PREVIOUSLY
Australia v India Tests
Matches 94
Australia wins 41
India wins 26
Draws 26
Ties 1
Previous India tours of Australia (Year/Tests/Winners/Result):
1947-1948 Five Aus 4-0
1967-1968 Four Aus 4-0
1977-1978 Five Aus 3-2
1980-1981 Three Drawn 1-1
1985-1986 Three Drawn 0-0
1991-1992 Five Aus 4-0
1999-2000 Three Aus 3-0
2003-2004 Four Drawn 1-1
2007-2008 Four Aus 2-1
2011-2012 Four Aus 4-0
2014-2015 Four Aus 2-0