"Wow, I didn't know that," Kohli said when told that this was India's biggest win outside Asia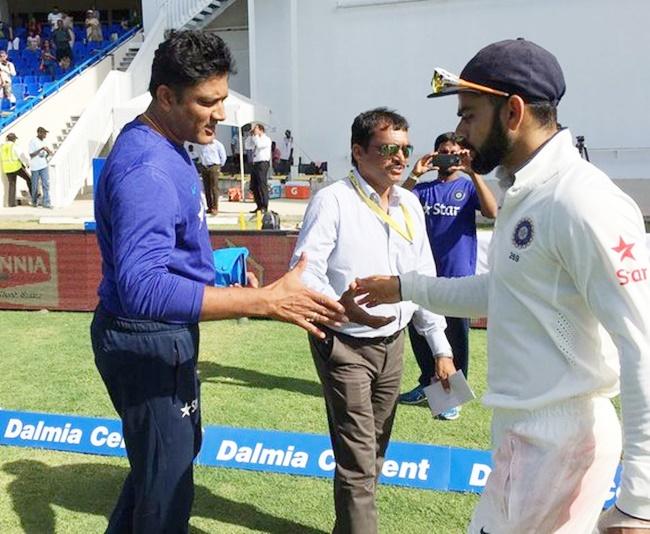 IMAGE. India's coach Anil Kumble congratulates captain Virat Kohli after beating West Indies in Antigua on Sunday. Photograph: BCCI/Twitter.
India skipper Virat Kohli termed his team's win over the West Indies in the first Test a "complete performance" and reserved special praise for Mohammed Shami, who marked his return to the five-day format after a long injury layoff with four first-innings wickets.
1st Test: Ashwin seals India's emphatic win against West Indies
India stamped their authority as Ravichandran Ashwin returned impressive figures of 7/83 to bowl out the West Indies for 231 and notch up a record innings and 92-run win, in Antigua, on Sunday.
"Wow, I didn't know that," Kohli said when told that this was India's biggest win outside Asia, before adding, "Just feels good to get a win on the board, always good to start well. Good prep time, for three weeks.
"Everyone was excited, we'd enough practice. It was a complete performance."
Kohli emphasised on the need to score runs quickly to aim for a win.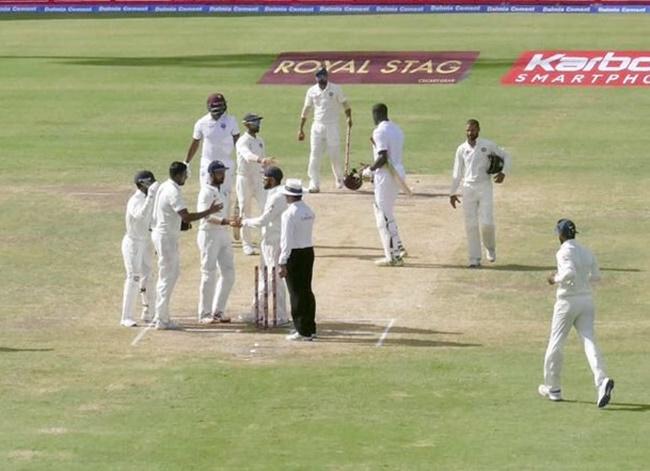 IMAGE. Coach Anil Kumble captures India's winning moment. Photograph: BCCI/Twitter.
"Scoring wasn't easy, initially West Indies bowled well. A couple of their bowlers rushed us, 70-odd for 2 with five batsmen, had to take responsibility. Shikhar was playing really well and I wanted to be positive, if you want to win a Test you have to score quickly and get the bowlers a chance to bowl the opposition out twice.
"Then Ashwin played a brilliant innings down the order, it was a team batting performance. If we're playing five batsmen, we wanted to deepen the order. We had Saha at No 7 and Ashwin was good enough to bat at No. 6. He was a pure batsman before he became an offspinner.
"It is always good to have someone who can do pretty well in both. Our initial thought was three spinners, but the amount of grass made us go with three quicks.
Regarding his seam bowlers, he said, "Ishant bowled well without luck. Shami and Umesh were outstanding. They way they bowled on a wicket like this, they rushed the batsmen. Someone like Shami, after surgery to come back and prove himself. He's a perfect Test bowler, hits those perfect deliveries to get batsmen out.
"Ishant is always consistent, Umesh bowled well too. The challenge for modern day batsmen, switching between batsmen. If you want to be the best, adaptability is one thing you have to do well.
"The way we prepare is important. Sandeep Patil asked me if I could hit a six through the innings and I said playing five batsmen, I can't hit sixes. We want to win every game we play, that's always been our vision and aim. I'm confident and aim in the skill we have.
"If they give us a dry wicket, three spinners come into play with Jadeja's batting. In the field we were good too, Saha with six catches. But we need to be confident, not complacent," Kohli said.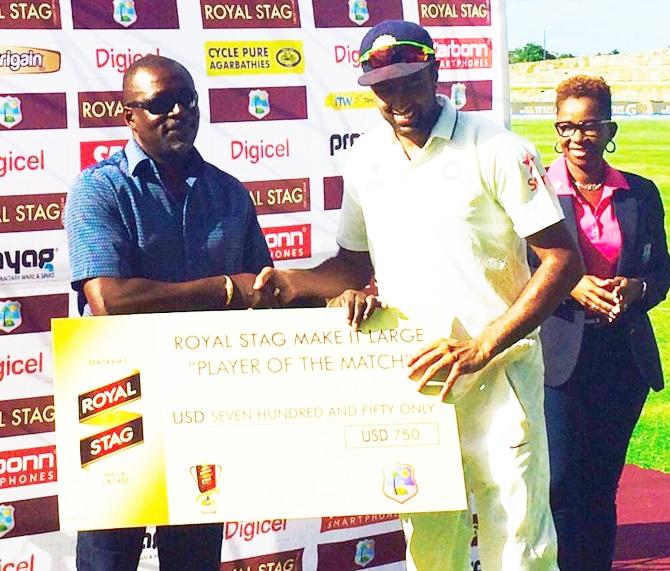 IMAGE: Ravichandran Ashwin receives the man of the match award. Photograph: WICB/Twitter.
Man of the Match Ashwin, who scored a century in the first innings before adding seven second-innings wickets, said he was trying to work on his rhythm.
"I wasn't finding my rhythm in the first innings. Virat gave me a long spell after lunch today and I was working on my rhythm with Anil bhai as well. Worked on it, you finish your action well, I wasn't getting a long enough spell, but today it was different."
West Indies skipper Jason Holder felt they did not bowl well enough.
"India put up a pretty good first innings total, we didn't bowl well. It's a daunting task chasing 566. We had some good performances, Brathwaite and Dowrich. But we didn't get enough partnerships. We have to bowl better, Shannon bowled very well, Bishoo was decent, but have to bowl well for longer," Holder said.
He added, "We'll see the conditions in Jamaica and then see the combination. Not too sure of the pitch there. Just think we need to see what happens. Normally it's flat. Again, it is hard to predict conditions in the Caribbean of late."