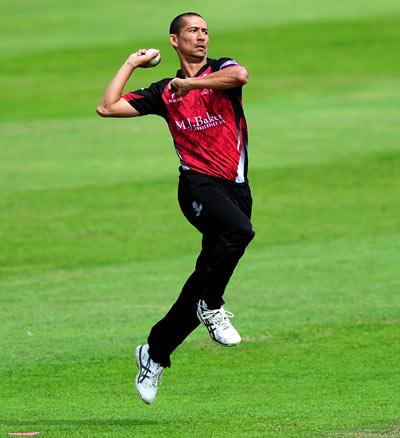 Delhi Daredevils on Thursday announced that former South African pace bowler Alfonso Thomas has joined the squad to work with the fast bowlers during the forthcoming eighth edition of the Indian Premier League.
- IPL 8 Schedule

Thomas, considered to be one of the the world's best T20 bowlers, will work with the pace bowlers in the Delhi Daredevils squad on a short-term contract. During his time, Thomas will share his vast experience of bowling in the T20 format across the world.
- Know the IPL teams

Speaking on the appointment, Delhi Daredevils Head Coach Gary Kirsten said: "We are delighted to secure the services of Alfonso. His knowledge of bowling in T20 cricket is excellent. We are hopeful that he will share his experience and expertise with our group of young and experienced bowlers. We welcome him wholeheartedly to the group as we begin the journey for this season."

Thomas, featured in the IPL for the new-defunct Pune Warriors, is also excited to be part of the IPL once again.

"I have enjoyed my time as a player in the IPL. It is therefore very special for me to be working with Delhi Daredevils squad. When the call came through from Gary, I jumped at the opportunity. I am looking forward to share all that I have learnt. The squad has a number of experienced bowlers like Zaheer Khan and Albie Morkel, along side promising talents like Mohammed Shami, Nathan Coulter-Nile and Gurinder Sandhu. It is an exciting opportunity for me to work with this group."

Thomas is still an active player and has featured in 214 T20 games across the world. He has picked 248 wickets at an average of 21.56 with an economy rate of 7.41 and a strike rate of 17.4.

"I have learnt from my experience across the world that bowling in the T20 format maybe tough, but if you do the basics well you can earn success. This is my first major opportunity to share experience as a coach. I have played in the tournament before so it will help us draw up plans accordingly. I have played with most of the guys so settling in with the squad will be fairly easy. I will do all that I can to help Gary and the boys," added Thomas.

IPL 8 kicks off on April 8, while Delhi Daredevils' first match will be against Chennai Super Kings in Chennai on April 9.
Image: Alfonso Thomas.
Photograph: Dan Mullan/Getty Images